Kaylee Jones
A&E Editor 
Photos by Kali Robinson
Lovers of good music, great food and stimulating conversation will enjoy a visit to The Silver Spoon, one of Lawton's local haunts.
The Spoon became USDA Black Angus Certified on Jan. 17 and will now offer Black Angus Certified prime rib, served alongside garlic mashed potatoes and asparagus with a hollandaise sauce.
Head Chefs Emaly Dube and Ken Clonch said they are currently working on renovating the menu.
"We are in the process of revamping our dinner menu," Clonch said. "We are transitioning towards a more southwestern cuisine."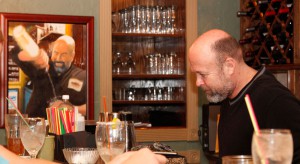 The menu currently features dinner entrees such as Tuscan style chicken and a salmon fillet, along with fried green beans and bacon-wrapped scallops for appetizers.
The Silver Spoon is located on 529 SW C Ave in downtown Lawton and boasts of a full bar without any TVs to detract from the interpersonal environment.
The restaurant features live music Wednesday through Saturday evening, where every Wednesday and every other Friday, 25-year-old local musician Jon Henry can be found performing an acoustic set featuring cover songs by Ryan Adams, Fleetwood Mac and Mumford and Sons.
While Henry has been playing guitar for the last 13 years, he has only been playing at the Silver Spoon since October 2012.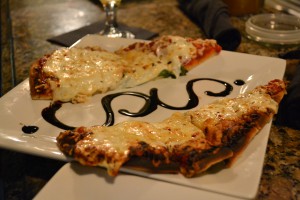 His performances begin at 7 p.m. and do not end until close.
In between sets, Henry nursed a glass of scotch and sat down to chat with regular guests at the bar top.
"Music is when people can share an emotion," Henry said. "Whenever you share something, it feels more real — more defined."
Across the bar, a portrait of a smiling, full faced man pouring a drink hangs on the wall. The man is Jan Kissick, the Silver Spoon's head bartender.
According to Kissick, the experience working at The Silver Spoon differs from most bars.
"While I may sell wine and spirits like any other bar in town, it is different here," Kissick said. "Here I have people engaged in real conversation. A lot of bars in town, people are going there to forget things. I find that the people that come here want to remember the conversations that they have."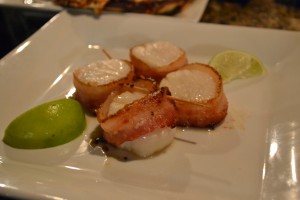 Professor of Languages Donna Clopton and her husband said they consider The Silver Spoon their date night getaway.
"We walk in, and my husband likes to sit at the bar, and Jan always says, 'This place is reserved for you,'" Dr. Clopton said.
The building has a history for her husband — it used to house Johnson's Ice cream, a place he visited when he was 14.
Around 10 p.m., the restaurant has emptied and the upstairs bar crowd has thinned.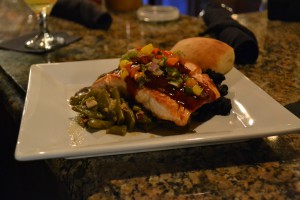 Kissick wipes the bar, halting his work only to sing along as Henry finishes the last songs of his set.
Kissick wishes the final guests a good night, calling each of them by name.
"Place is made by the people in it," Kissick says, "and if you seek them out, you will always find good people."