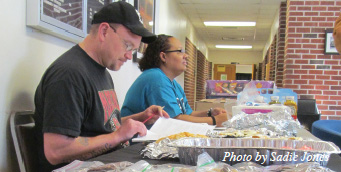 Story by Sadie Jones
Video by Paola Troche
Chili, hot dogs, homemade cinnamon rolls and pastries captured the attention and taste buds of Cameron University students, faculty and staff when the members of the Student Veterans of America (SVA) held a Valentine's Day Bake Sale.
From 9 a.m. to 2 p.m. on Feb. 12, SVA members remained busy in the lobby of Nance Boyer, satisfying CU's sweet tooth and raising money to support to military veterans and their families. SVA includes veterans who currently attend classes at CU and ROTC members. Robert Johns, the SVA President — and K K Dingle, a member of  SVA —  held the organization's first bake sale and saw which items went first.
"The most popular items sold at the Bake Sale were hot dogs, chili, bottled water and pastries," Johns said. "The hot dogs were donated by Bar S of Altus, and the chili was made by the vice president of student services, Jennifer Holland."
Dingle explained the purpose of the bake sale — the objective is to provide support for other military veterans and their families during their college careers.
[vimeo]http://vimeo.com/60406506/[/vimeo]
"The money from the Bake Sale will be used for SVA activities," Dingle said, "such as on campus events with special guests who will speak and offer support to SVA members."
In addition to organizing local and on-campus events, Dingle mentioned a possible trip to the Okla. state capitol that would enable the members of the organization to share the SVA mission with others.
"We hope to raise enough money to go to the state capitol and raise more awareness for veterans," Dingle said. "To inform them of how SVA is benefiting and supporting their members — medically and mentally."
According to the Student Affairs Center website, SVA members across the Unites States have been striving to support and encourage military veterans and their families since 2008.
Since 2012, CU veteran students and ROTC members have been recognizing the needs of veterans and their families that live in the state and elsewhere.
"The SVA organization is new to CU," Dingle said. "It was established late in 2012, and this is our first fundraiser to collect money for activities and events we want to be involved in."
Johns said knew of students who had heard about the organization and wanted to be involved, so he took the initiative and helped begin the program at CU.
"The organization is student and donation based," Johns said.
Veterans share the experience of serving their nation, and Dingle said CU SVA members have recognized the need to show veterans support on and off campus.
"Veterans of our community need people out there to do things with them," Dingle said. "They're just like us; they need companionship."
Johns said he hoped to have more than one location for the next campus fundraiser in order to attract more interest and make it more accessible to students, faculty and staff on the opposite side of campus who may not have time to walk to Nance-Boyer
Jones said the Valentine's Day Bake Sale provided SVA members $414.70 to add to organization activity funds. Because the first SVA fundraiser was a success, Johns said SVA is planning another bake sale to take place on March 14.