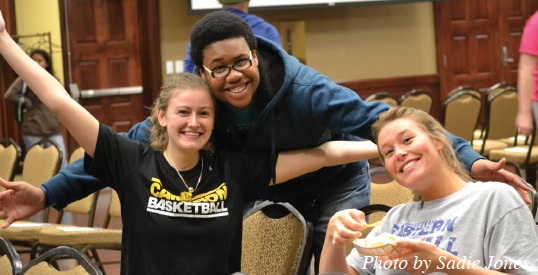 Sadie Jones
Staff Writer
Whether viewers favored "Team Edward," or "Team Jacob," students of Cameron University set aside their differences Feb. 5 for the viewing of Breaking Dawn: Part 2, in the McMahon Centennial Complex Center Ballroom.
Program Activities Council (PAC) Student Activities Specialist Megan Canfield hosted the movie night, along with the help of CU Freshmen PLUS students and Chairs of the event, Bridget Thompson and Mike Fletcher.
Students gathered in the MCC to eat nachos and conclude Stephenie Myer's saga of romance, vampires and werewolves. The PAC organization, recognized by the student body for their Movie Nights, enjoyed yet another success.
"PAC consists of students who work together to provide activities for CU students," Canfield said. "We are most well known for our movie nights and we host them the first or second Tuesday of every month."
Canfield said PAC received their movies from "Swank Motion Pictures," which is an international non-theatrical motion picture distributor and licensure.
"Swank is exclusive to campuses and provides movies for student viewing that are not even out on DVD yet," Canfield said.
As an organization, PAC narrowed the choices down to four movies: Breaking Dawn: Part 2, Wreck it Ralph, Skyfall and The Master. Students were permitted to make the final decision, which led to a large turnout of CU students to the event.
"I think the reason that PAC Movie Nights are so popular is because we allow the student body to choose," Canfield said. "When they have a say in the activity, they are going to want to be involved."
Canfield said the PAC events that take place are the responsibility of PAC members. Thompson and Fletcher, two students who organized the movie night event were Freshmen PAC members.
Thompson and Fletcher said they were in charge of deciding what food would be served, setting up chairs and also cleaning up afterwards.
In order to reach out to the student body about upcoming events, Thompson and Fletcher said it is important students are provided with information so they can be informed about campus activities.
"To advertise the Movie Night and other events we host on campus, we make posters, banners and write on the sidewalks with chalk," Thompson said.
"We also use the social media and update Facebook and Twitter with upcoming events," Fletcher added.
Although Fletcher and Thompson were required by PLUS requirements to be involved in a campus organization—both agreed being involved in PAC was a good choice.
Thompson said PAC is not only offered to PLUS students. It is a University funded organization and anyone can be a member.
"The reason I chose to be a part of PAC was because this organization is really involved on campus," Thompson said. "There seemed to always be something going on."
Breaking Dawn Movie Night attendee and PAC member, Hannah Smart, agreed with Thompson and said PAC feels like a family environment because the members spend a lot of time together planning and being involved in events.