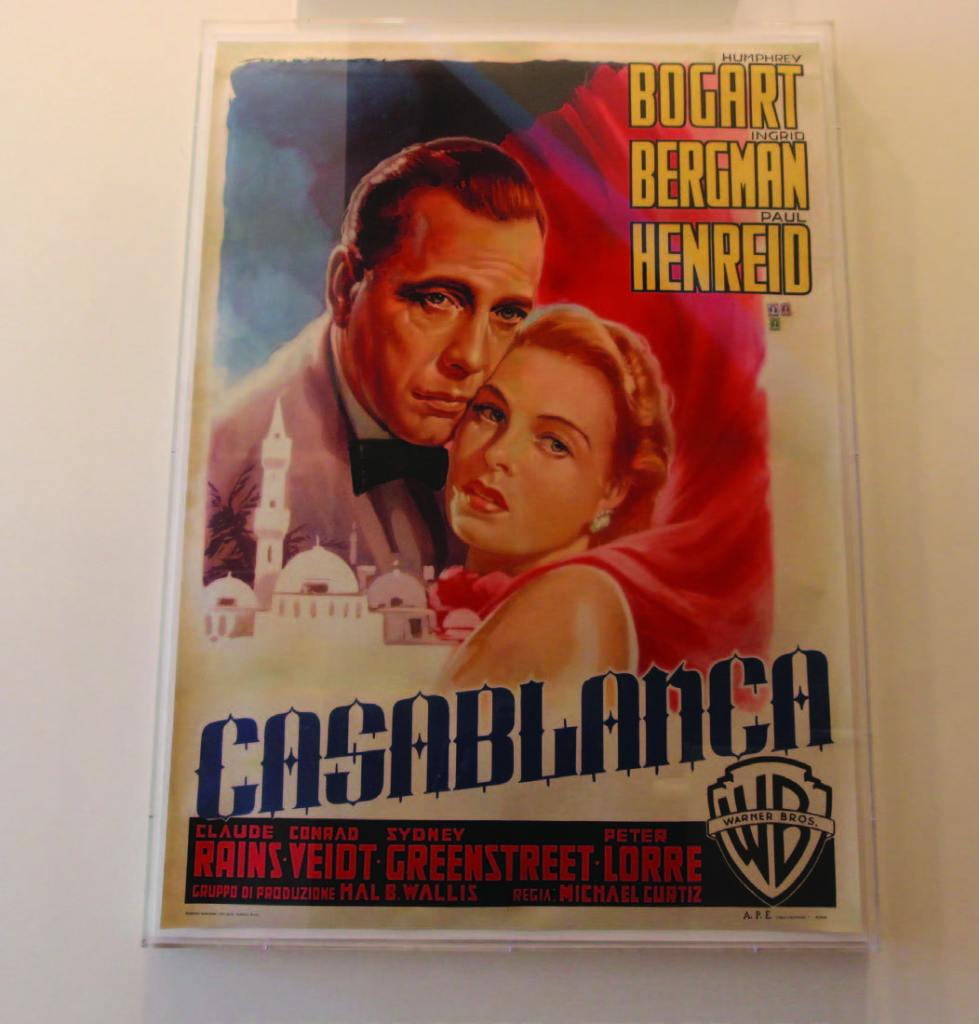 Sarah Brewer
Copy Editor
When the Magic Lantern Film Society gave a presentation of "Casablanca" on the evening of Feb. 8 at the CETES Center, the showing of the film — to paraphrase a line from the movie — drew an audience that included more than the usual suspects.
The recent screening the 1942 American romantic drama marks its return to the ongoing film series after 19 years.
Set in its titular city before the attack on Pearl Harbor in 1941, the film stars Humphrey Bogart as Rick Blaine, an expatriate American who is the proprietor of a ritzy nighclub. When his former flame, Norwegian Ilsa Lund — played by Ingrid Bergman — enters his establishment alongside her husband, Victor Laszlo, a Czech Resistance leader played by Paul Henreid, he is overwhelmed with agony.
The film received critical acclaim for capturing pathos in its performances. In fact, "Casablanca" won the Oscar for Best Picture in 1942 as well as two other Academy Awards.
English Professor Dr. John Morris, the faculty adviser for the Magic Lantern Film Society, said that he first saw the film as a college student and hopes the title of the popular move will intrigue other students.
"We wish we could more college students to come to some of these movies, but we are hoping that 'Casablanca' lures some to come," Dr. Morris said.
Dr. John Morris said the organization intended the showing of the film to coincide with Valentine's Day 19 years ago and planned to do the same this year.
"The last time we showed it was in 1994 — and this was when we were showing film in the band room — and we had a trivia contest that night. I wrote the trivia contest, and there were some who got all of them right," Dr. Morris said. "We had a first prize — it was our Valentines film then, too — Valentine's breakfast at Old Martin's Restaurant which they donated, which was very nice."
However, instead of challenging students to answer trivia questions, Dr. Morris said the Magic Lantern Film Society will present an award to History Professor Dr. Mark Stegmaier. Dr. Stegmaier established the Magic Lantern Film Society with Professor Marilyn Beaney in the spring semester of 1982.
"We wanted to recognize the fact that he is retiring and wish him well. This is his 38th academic year; he started at Cameron in 1975," Dr. Morris said. "We are giving him an award, and what he doesn't know — that we are renaming our meritory service award in his honor, so he will be the first recipient of the Stegmaier Award."
Dr. Stegmaier said he was surprised to receive the first award named after him. He said he enjoys the films the Magic Lantern Film Society chooses to screen each year and foresees the continuation of this film series.
"In one way or the other, we always have good movies that are famous for some reason. They have value," Dr, Stegmaier said. "We have been keeping this going for 30 years, and there is no reason to think that we shouldn't keep this going for another 30 years."
Franklin Sales, a 19-year-old high school junior who attends Lawton High and participates in Upward Bound, said he appreciates the value of watching films made during bygone eras.
"I heard stories about it from my family members — my grandmother has seen it and said it was a wonderful film and that I should see it," Sales said.
"Even if they don't like old films, I would suggest to people to see at least one or maybe two, and then let their taste take them where they want."