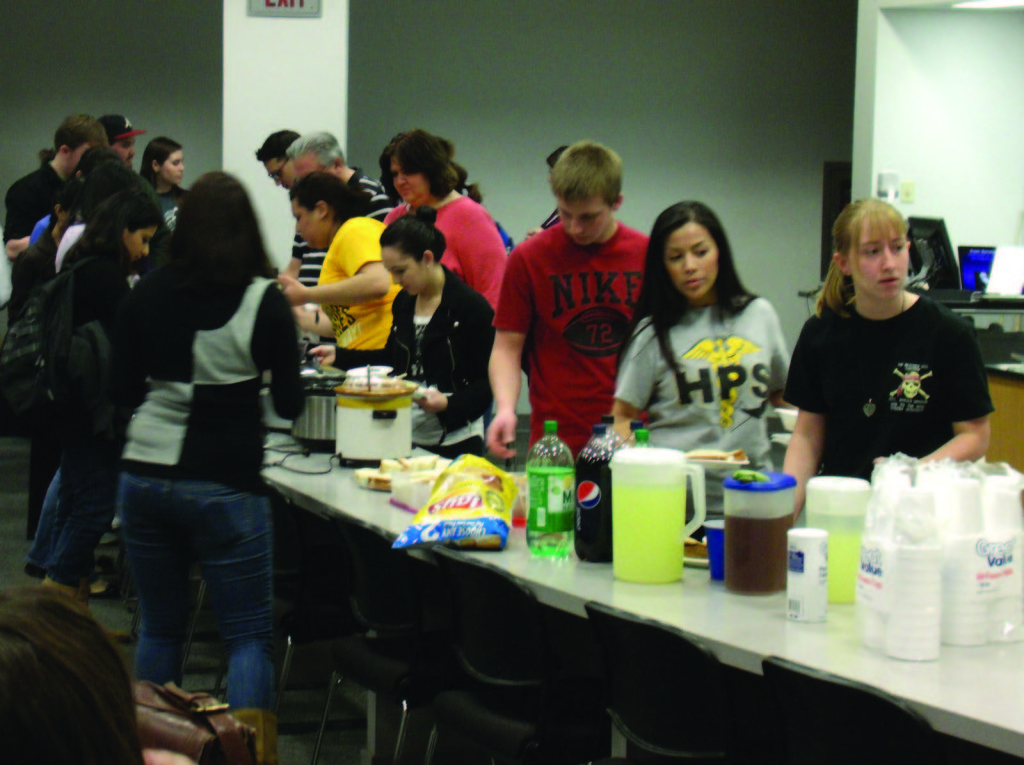 Picture and story by Charlene Belew
Video by Chase Mallow
The Cameron University Biology Club and Tri Beta (BBB) held its 11th annual Darwin Day at noon on Feb. 8 in the Science Complex.
Darwin Day is held to celebrate Charles Darwin's birthday on Feb. 12, 1809. If Darwin were still alive, the English naturalist known for proposing the theory of evolution in, "On the Origin of Species" would be 204-years-old.
Darwin Day started with approximately 80 students and faculty members eating lunch and receiving T-shirts from the Biology Club and BBB. After this, Associate Biology Professor Dr. Mike Husak introduced the guest speaker for this event, OSU Associate Botany Professor Dr. Mark Fishbein.
Dr. Fishbein's presentation,"From Darwin to Genomes: Milkweeds as a Model System for the Evolution of Plant Defenses," discussed the different species of milkweeds that have evolved to protect themselves against their predators.
According to Dr. Fishbein, some milkweeds have used physical defenses such as hairs, waxes and latex while others use chemical defenses such as toxins and cardiac glycosides phenolics.
[vimeo]https://vimeo.com/59950365[/vimeo]
Dr. Fishbein also explained that as the milkweeds continue to evolve, their predators also evolve in tandem with these mechanisms and ultimately force the plants to grow faster to survive. This means that the defenses of the milkweeds have gone down while the regeneration and growth rates of the milkweeds have gone up.
"A plant can either be successful in strength to not be eaten or be successful in bouncing back by growing quickly again after they have been eaten," Dr. Fishbein said.
Dr. Fishbein said that his interest in milkweed plants started in 1990 and eventually grew into looking at the plant defense mechanisms in 2004.
"I was interested in milkweed pollination around 1990," Dr. Fishbein said. "My plant defense research started in 2004. I have quite a few papers: about 50 of them are published and around 75 percent of them are over milkweeds."
After the presentation was over and questions were asked and answered, Biology Senior Alex Lamle cut Darwin's birthday cake. Biology senior and club historian Jared White said that he was impressed with the turn out for the event.
"I've never been to a Darwin Day that I haven't enjoyed," White said. "I believe last year had about 60 or 70 people and this year had about 80. It was a pretty good turnout. People seemed confused when they were told the topic was over milkweeds, but when I looked around the room, everyone was really into the presentation and seemed to be enjoying it."
Dr. Fishbein said that attending Cameron's Darwin Day celebration was an enlightening and fun experience.
"The experience was great," Dr. Fishbein said. "I'm super impressed by the size of the audience and the number of students who are interested in celebrating Darwin's birthday. Cameron, keep up with the good work on Darwin day. I'm inspired to try to make a Darwin Day start at OSU now."