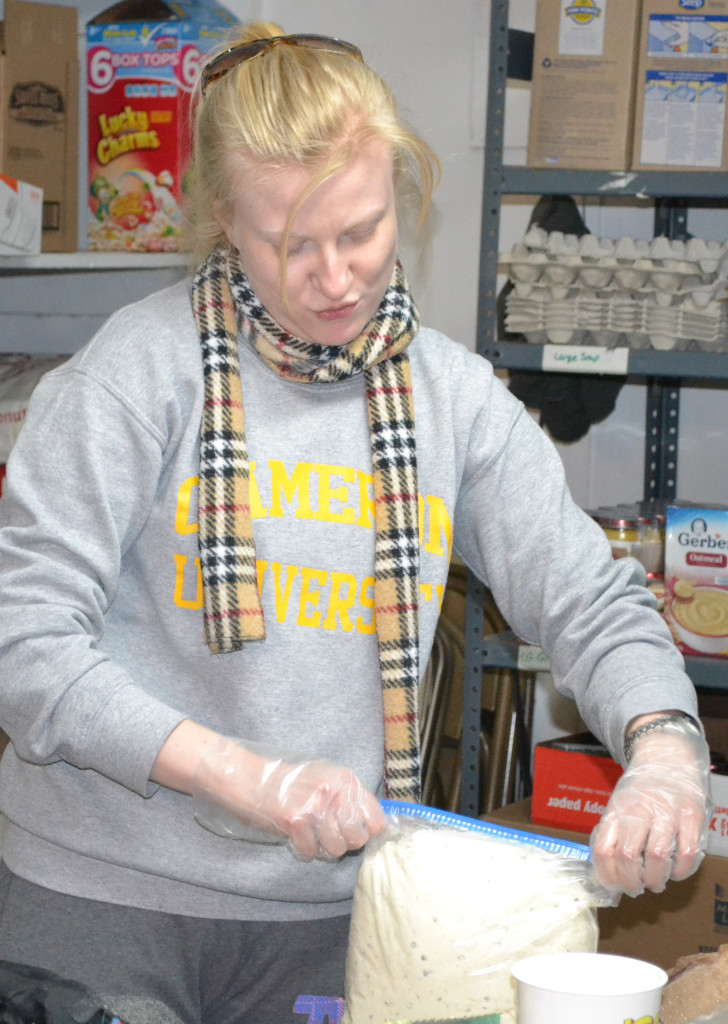 Story by Sarah Brewer
Videos by Mikaela Greene and Moses KipKosgei
Cameron University volunteers took a day off from classes as a day to serve the Lawton – Fort Sill community for the national Martin Luther King, Jr. Day of Service.
Students, faculty and staff joined other volunteers serving in the area to transform the federal holiday into an opportunity to improve the community. Over 400 CU students participated in the fifth-annual CU MLK Day of Service on Jan. 21 by completing 33 projects at various sites – honoring the legacy and remembering the teachings of the late Rev. Martin Luther King, Jr.
Vice President of Student Services Jennifer Holland assisted Director of Student Life Zeak Naifeh, and both worked with a committee of representatives from the City of Lawton Retired and Senior Volunteer Program, Cameron Campus Ministry and United Way starting last year to plan the event.
"We started in early fall, and submitted an application for a small grant from Campus Compact to assist with funding for supplies. In October, we started reaching out to prospective project sites and volunteer groups. We really ramped up our planning in November and continued until the date of the event," Vice President Holland said.
Projects included cleaning, organizing, repairing and painting for various charities, churches and non-profit organizations. Some volunteers headed to Cache to restore playground equipment while others went to Wichita Mountains Wildlife Refuge to clear the way for a new mountain biking trail.
In addition to these projects, CU participation in the Day of Service expanded this year to include a supply drive for local United Way agencies: Family Promise of Lawton, the Lawton Food Bank, the J. Roy Dunning Children's Shelter, the C. Carter Crane Shelter for the Homeless, the Salvation Army, the Healing Expressions Lead to Prevention (HELP) Advocacy Center of Southwest Oklahoma, Roadback, Inc. and Catholic charities.
According to Jennifer Holland, Vice President of Student Services, the supply drive was a success.
"The supply drive ended up being huge. It was new this year, and we had six locations for the supply drive. We asked some of our community agencies if they could create a wish list and what would be on it," Vice President Holland said. "We collected over three thousand dollars' worth of items, and we think we had about 250 donors."
[vimeo]https://vimeo.com/58729525[/vimeo]
Some of the items found on these lists — like hygiene products and office supplies —were everyday essentials, but according to Vice President Holland, each donated item relieves the burdens these agencies face while helping others.
"They asked for toilet paper and paper towels because those things are expensive, and if you get those things donated, you can spend your resources on other things," Vice President Holland said.
Service does not require expertise in a specific field, said Vice President Holland.
"You don't have to have amazing skills — you don't have to be a carpenter or an electrician — you just have to be willing to work hard, find a need and figure out how to fill it," said Vice President Holland.
Student Government Association President Colten Kennedy, a senior double-majoring in History and Mathematics, worked with other students to fill a need by requesting items for donations at the Wal- Mart located on Quanah Parker Trailway.
Frigid temperatures did not deter students from working outside and collecting donations from Wal-Mart patrons.
"It is a little cold today. The wind chill is pretty cold, but our group is staying highly motivated, and we're excited to be out here helping the community," Kennedy said.
Kennedy said that student enthusiasm was evident at the start of semester.
"When we announced it at our last Student Government meeting, at least half of the people were willing to get involved or were already getting involved with a specific group. It is great participation from Cameron," Kennedy said.
Kennedy participated in the CU MLK Day of Service for the first time this year, and he said he found his work personally rewarding. He also took a moment to ref lect on the Civil Rights movement led by King and its lasting impact.
[vimeo]https://vimeo.com/58725359[/vimeo]
"It is a great way to be a part of the community and get involved, and it just makes life more exciting and fulfilling," Kennedy said. "It was not all that long ago, but his actions during the Civil Rights movement in general have changed America in a great way."