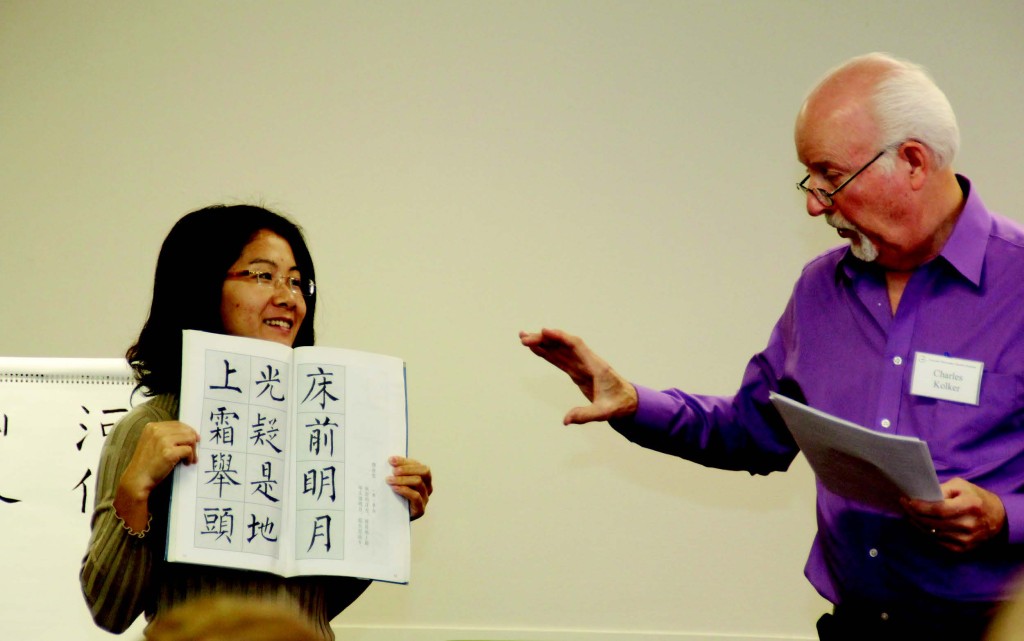 Kaylee Jones
A&E Editor
Photos by Kali Robinson
Intercultural communication was the discussion of the day when Charles Kolker and Professor Hengbi Xiao spoke at the Unitarian Universalist Church of Lawton on Feb. 3.
Citizens seeking a greater understanding of Chinese calligraphy or searching for a community of individuals joined by mutual respect and support were encouraged to join members for the 10:30 a.m. service.
Patsy Nixon, a member of the church, introduced herself to newcomers, welcoming them with the words: "This is a liberal church. We don't have a preacher; our talks are held to improve the quality of life." Members participated in rituals such as the 'lighting of the chalice,' recitations of affirmations and singing of hymns before the lecture began.
Charles Kolker, a third-year member of the Universalist church, taught at Shenzhen University in China for three years. Kolker invited Professor Xiao to join him in demonstrating the basic principles of Chinese calligraphy.
Xiao arrived at CU in August of 2012 to teach Beginning and Intermediate Chinese for the 2012-2013 academic year. Xiao has been practicing calligraphy since she was 10-years-old.
Kolker opened by explaining, "The goal is not to make us Chinese calligraphers, but to learn about and appreciate the culture."
Kolker taught Intercultural Communication during his time in China. He said it was important to understand Intercultural Communication in a world that was continually growing smaller.
For the service, Kolker said he would be calling Xiao "Laoshī," the Chinese word for teacher, as she was not comfortable with the title of professor.
Kolker displayed the books he had used to learn about Chinese calligraphy while Xiao painted the characters on a large notebook. Kolker said in China, beginners practice on squared graph paper to help them learn how to make the characters a consistent size. He said the vigor of the strokes is very important when using a brush, as calligraphy is an art.
Kolker explained that Chinese children must learn calligraphy from a very young age in addition to English.
Xiao added that in order to be considered educated in China, a person must have a grasp on 3,000 to 5,000 different characters.
Xiao painted the characters for Shān, the Chinese word for mountain and Rén, the word for man.
During discussion, Xiao said there had been times when essays she received in class at Cameron were difficult to read.
"I think writing essays, [Americans] respect more personal style and how you write yourself," Xiao said. "In China, the purpose of when you write is to get someone to see it."
As she demonstrated techniques for ink distribution with a brush, Xiao said: "This runs in our blood. Parents think recitation of poems that cultivate temperance, so I was made to practice calligraphy and recite poems."
Xiao said her father had practiced calligraphy and thought it important for her and her sisters to as well.
Toward the end of the lecture, Xiao painted and read aloud a poem entitled "Spring." As she finished, Kolker joked: "This is sort of like professional baseball. She makes it look easy."
At the end of the lecture, Xiao said she wanted to thank the American taxpayers who made it possible for her to come to Cameron and teach.
"I think we got our money's worth," a woman in the congregation said.
In May, Xiao will return to Guangzhou where she teaches at the Guangdong University of Foreign Studies.