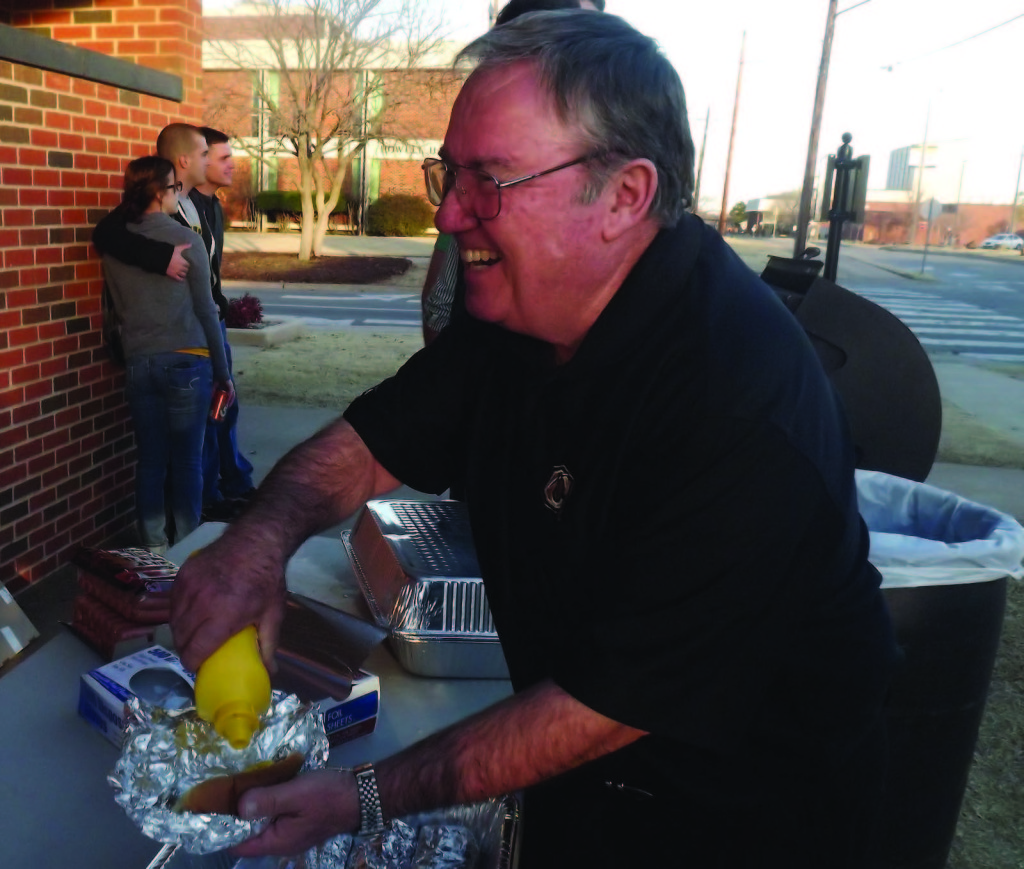 Tyler Boydston
Asst. Managing Editor 
The Aggie Army is recruiting spirited Cameron University students to its ranks.
Assembling this semester to bring attention to ongoing campus events, the Aggie Army intends to cheer for CU students athletes — but its presence is not limited to games.
According to Athletic Director Jim Jackson, the Aggie Army intends to raise school spirit at any CU function it attends.
"Well, the Aggie Army as I describe it is a group of students that is intended to support Cameron University, and in particular Cameron Athletics, though it doesn't have to be athletics," Jackson said.
Jackson said the organization started as a way to boost student attendance at games on campus.
"What we have been trying to do over the past few years is increase attendance of students at sporting events," Jackson said. "We seem to get a good community crowd, but the students seem to be reluctant to come because there is a lot to do."
According to Jackson, the idea for the Aggie Army came from students who came to his office with a suggestion.
"All of a sudden, I had a couple of students walk into my office and say, 'Why don't we have a spirit club like you see on TV where all the students go?' It evolved from that first inquiry," Jackson said.
Jackson was receptive to their suggestion and started planning for the group they had envisioned.
"I told them it was great," Jackson said. "The reality is the students don't want the athletic director to lead their charge, they don't want an instructor or administration, but they will follow each other. So I called a meeting with a group of students that I thought would be interested and also through the Pickaxe Pass we saw who was coming to volleyball games.
He continued: "So I explained to them what my vision is. I said, 'This is your group, and I'm here to support you. Tell me what you need, and I'm here to supply it.' They really took the ball and ran with it."
Since the Aggie Army began this semester, it has yet to become an official on-campus club. However, Jackson intends to change this status as soon as possible.
"I'm their supporter and what we plan on doing is applying to become a club in the spring for next year," Jackson said. "Hopefully I can find someone to act as their sponsor. It's a great bunch of people, and their intentions are good. They love Cameron and they want to see Cameron better — and they love to support Cameron."
Sophomore Criminal Justice major Dalton Matthews was one of the students who proposed the idea for the Aggie Army and has been leading since its inception.
According to Matthews, the idea for the Aggie Army came from a recognized lack of interest from students regarding school events.
"I happened to notice a lot of apathy from the students toward athletics in general, and I wanted to try to make game day more of an experience. So rather than people going to watch the game, I wanted them to take part in the game," Matthews said.
Matthews said his idea for the group came from participating in similar groups in the past.
"I came from OU where I played rugby and went to football games. They have groups like this set up exclusively for students by students to try to raise game day spirit. I wanted to take the idea of a core group of students willing to put themselves out there for the athletics department to raise spirit and awareness in the student body through us."
Members of the Aggie Army have been leading and fulfilling important duties at basketball games since the group was formed.
"At basketball games, we get to lead players out when they rush the court," Matthews said. "We have a giant Cameron f lag that we carry when we lead the players out. We have a special place for us in the students' section — front row on the half court lines."
According to Mathews, the process to joining the Aggie Army requires applicants to have pride in their school.
"We made it a two-step process," Matthews said. "First game you come, you sit with us, cheer with us. If you have the enthusiasm and the pride, then you come back next game. When we're at the games, everybody knows where we're at, and we wear t-shirts that have our organization's name on them."