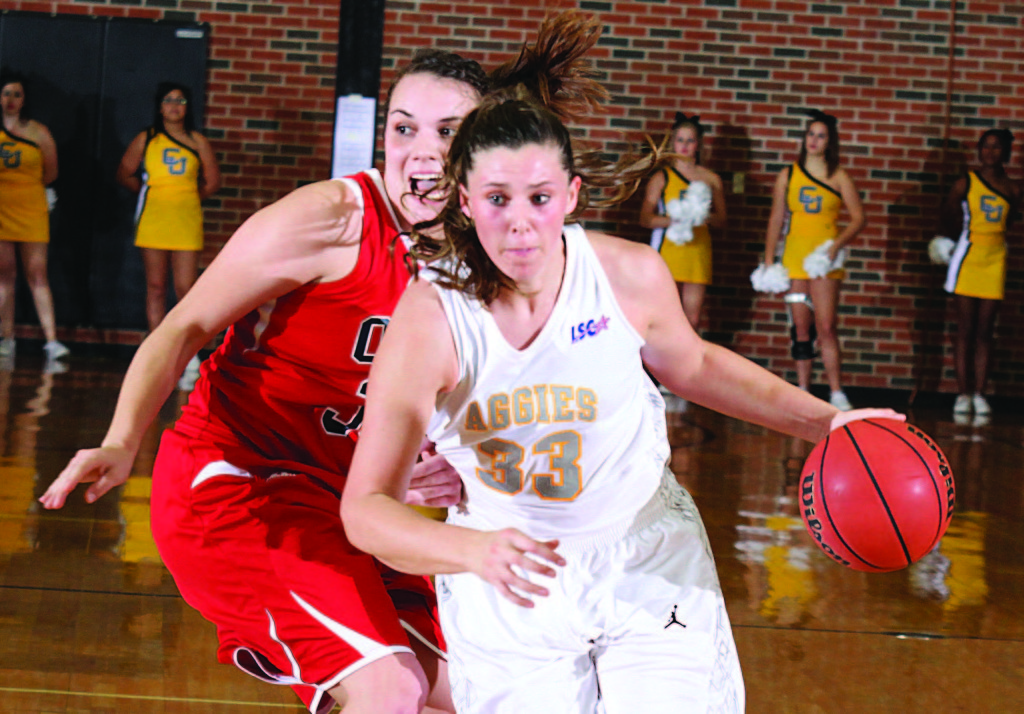 Tyler Boydston
Sports Editor
Photo courtesy Sports Information
The Cameron University women's basketball team played and won against Oklahoma Panhandle State University on Nov. 20 at home in the Aggie Gym after falling to East Central University Nov. 15.
The first home game of the season against ECU ended with a loss for the Aggies with a final score of 46–78.
Point leaders on CU's team included junior Hannah Pollart with 13 points and six rebounds, and junior Lacy Reinke with nine points and six rebounds.
According to women's head basketball coach Tom Webb, the team had defense trouble during the game against ECU.
"East Central played extremely fast, and we struggled in defensive transition," Webb said. "I think it helped us in the fact that we learned from that. If they'll do that all year, it doesn't matter if you win or lose. Every game is going to help you get better if you just learn from the mistakes you made the night before."
Five days later, the Aggies welcomed Oklahoma Panhandle State University to the Aggie Gym in a game that ended in an Aggie victory of 66-50.
Senior Alexis Williams joined Reinke and Pollart to be the top three scorers of the game. Reinke scored 15 points and had seven rebounds in the match, while Pollart and Williams both scored 12 points each.
Coach Webb said the game against OPSU helped to show the team's improvement after their previous games of the season.
"The game against Oklahoma Panhandle was big," Webb said. "Number one, our team needed reinforcement that they're capable, and a win does that for them. Number two, I think we saw some improvement on things that we needed to work on. We minimized turnovers, which was big, and some shots fell. We need some more shots to fall, because when they do, life is easier."
According to coach Webb, the first four games of the season have helped the team focus on what they need to improve on.
"We played really good competition," Webb said. "What that does is help you to realize where you are. We need to know what we need to work on. We need to know what our strengths and weaknesses are so we can focus on those. I know no one wants to be one and three, but as a whole at least we know where we are at the end of the season."
Webb said the team has yet to play any sets, as they are currently working on more freeform games.
"We really haven't run any sets this year," Webb said. "We let them play a lot of freelance basketball. We're trying to teach them how to play so they won't rely on plays."
According to coach Webb, the team's capacity for growth can be met through the retention of concepts and their ability to work together, as well as being a more aggressive team.
"If our team can understand and retain concepts, then that will be really good at the end of the year," Webb said. "They just have to continue to increase their learning curve. They're really close right now, and that helps a ton. They're competitive. They have a chance to be really, really good. We need to get better at defensive transition and being more physical. We also need to push the basketball harder and be more aggressive."
The women's basketball team's next home game will be at 6 p.m. on Dec. 12 at the Aggie Gym against Eastern New Mexico University.