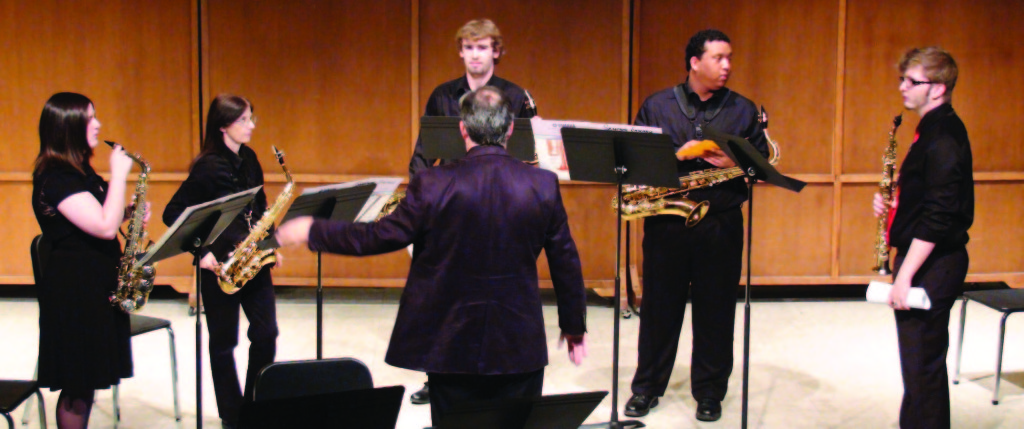 Carson Stringham
Newswriting Student 
The Cameron Music Department highlighted its three woodwind ensembles during its "Woodwind Night" concert that took place at 7:30 p.m. on Nov. 13 in the McCutcheon Recital Hall.
Temporary Assistant Professor Dr. Michael Compton said the concert was something that he thought up as a way for the groups to test their new material on a live audience, and the music featured during "Woodwind Night" ranged from classical compositions by Bach and Mozart to more contemporary pieces by Jan Freidlin and Daniel Dorff.
According to Dr. Compton, the flute ensemble only consisted of three students until a few weeks ago when a student decided to get back into playing music and join the group.
Dr. Compton said the only prerequisite to becoming a member of any of the ensembles is being able to play proficiently. Each ensemble is offered as a class on campus; however, each individual member takes the class at a different time, thus the groups only get to rehearse together as a whole one day a week. Dr. Compton said that for the concert, a rehearsal was held with only an hour to spare before the performance began.
The concert took two months to put together; but, with that now behind him, Dr. Compton says that he has some ideas for performances for the holidays.
He said, "I've got some arrangements of Christmas tunes, so we are going to start working on those; maybe we will decide to stroll around campus and play or set up a performance at the mall."
Dr. Compton said he hopes to have more students join the ensembles in the future.
"If you play an instrument, come on out," he said. "If you played in a chamber group in high school and enjoyed it, come on out; that's what we do."