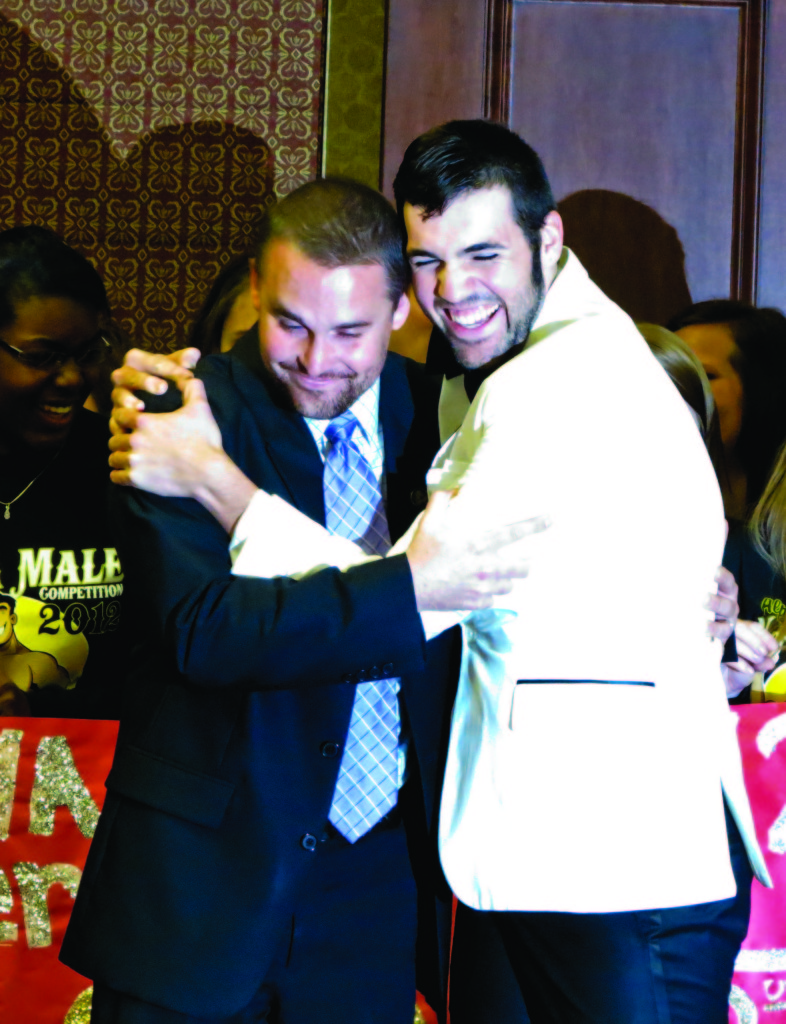 James Meeks
Staff Writer 
Cameron University's Alpha Phi held their third annual Alpha Male competition on Nov. 8 in the MCC Ballroom.
Five males from various CU organizations battled it out on stage in areas of sportswear, talent, formal wear and interview questions.
Niki Streussnig, member of the sorority and master of ceremonies for the competition said that although bragging rights were on the line, there was a more worthy charitable goal the girls of sorority had their eye on. She explained that all the funds specifically from the competition would go toward the fund to help out their sorority sisters.
"The current crisis the fund is helping out right now is our sisters who lost everything in Hurricane Sandy," Streussnig said.
Proceeds from the evening also went toward advancing leadership development, encouraging academic excellence, improving women's heart health and helping other sorority members.
Scoring depended on both votes from judges and input from the audience.
"For their favorite contestant, they will put a dollar in their bucket which will count towards the overall score — one dollar equals one point," Streussnig said.
The first contestant was Jay Gatliff. Gatliff was dressed in a soccer uniform. His talent was doing ball balance tricks and balancing the ball on his back while taking off his jersey.
Second contestant Juan Martinez dressed in sports fan wear. His special talent was planking, a fad that took off in 2009 in which people lay flat in unusual locations.
Third contestant Frank Myers dressed in sports fan wear, showing off his calves. His special talent was doing a spoken-word interpretation of Sir-Mix-A-Lot's "Baby Got Back," which inspired in laughter among the crowd.
Colton Rancoure was the fourth contestant, and he came in geek wear. His special talent was being able to juggle a golf ball with a golf club.
The final contestant was Steve Sassaman. His sports choice was wearing a cyclist outfit similar to those in the Tour de France race. His special talent was singing, and he sang "Great Big Stuff" from the 1988 Steve Martin comedy, "Dirty Rotten Scoundrels." Sassaman encouraged the crowd to sing along with him during his performance.
After showing off their sportswear and talent, the contestants wore formal wear and answered interview questions. Each contestant answered their questions with confidence and pride
The contestants went to the members of the audience to convince them to donate money into buckets with their name on it after answering a series of interview questions. This segment not only helped the Alpha Phi members with their goals, but also gave participants one last chance to obtain points.
The winner of the competition was Frank Myers, and Sassaman was named the first runner-up. Alpha Phi raised a total of $810.08 from all the donations and monetary votes gathered during the event.
All Alpha Male contestants will also be featured in the Alpha Male 2013 calendar.