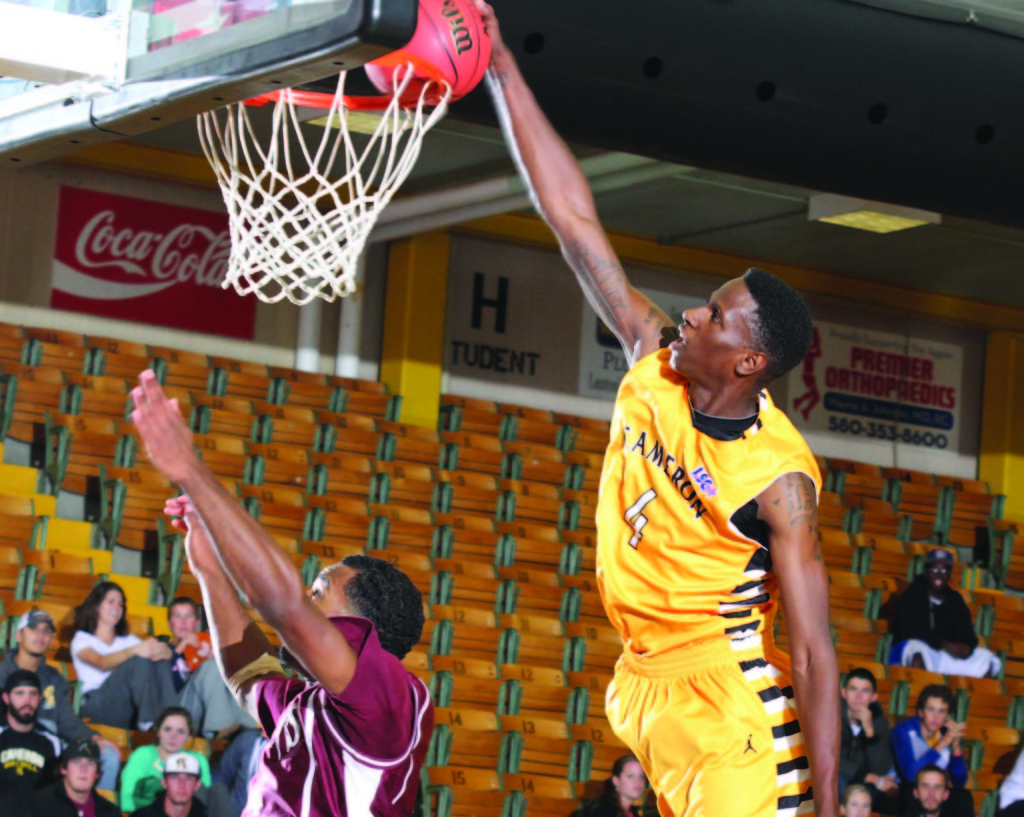 Tyler Boydston
Sports Editor 
Cameron University's men's basketball team started off their season at 3 p.m. on Nov. 11 against Southwestern Adventist, playing at home in the Aggie Gym.
The Aggies defeated the Southwestern Adventist Knights in the game with a final score of 77 to 49.
Senior Andrew Thomas led the men's basketball team during the game, scoring 16 points and grabbing six rebounds throughout, while junior Asaad Robinson scored 15 points during his 26 minutes against Southwestern Adventist. Junior Aaron Thompson ended the match with 11 points and 11 rebounds, while junior Jonathan Patino had 10 points within his 24 minutes of play.
According to Men's Head Basketball Coach Wade Alexander, despite the team's win against the Knights, they still have room to improve over the course of their season.
"We really rebounded the ball and took care of it well," coach Alexander said. "Shot selection was not as good as we would have liked, but not terrible. Defensively, we could have done a whole lot better. We just lost focus for three or four minutes, and they were able to get 10 or 12 shots."
The day before their season opener, the current men's basketball team played against past members of the team in an alumni match. At the end of the first half, the current team found themselves ahead 39 to 34, but managed to further their lead by the end of the game when they won 82 to 65.
Head coach Alexander said the alumni game managed to help the Aggies prepare for their season by making the team explore options they normally would not resort to in their games.
"It got those first-game jitters out of their system," coach Alexander said. "With the alumni, some of them knew our plays so when we called one out, they knew how to attack it and made us use our other options."
According to coach Alexander, the amount of time the team has to practice has increased by 12 hours once their season began.
"Oct. 15 was the first official day of practice," coach Alexander said. "We can have pre-season practice, but you only have eight hours a week with the players. During the season we have 20 hours a week."
With the season now in session, coach Alexander said the team is focusing on being prepared for what other teams can bring to the table, as well as the individual focus.
"Early in the year you have to worry about yourself," coach Alexander said, "so you have to get yourself ready, execute your offense, be ready for anything they may throw at you and trust that you're going to outperform the other team."
According to Alexander, the new players to the team are still in the process of enhancing their game.
"We're still trying to implement some of our stuff with the new guys and get a little sharper at what we are supposed to do both defensively and with some of our plays," he said. "We still have a lot of things that we can work on every day, and it probably gets boring to them, but it's pretty much the same thing every day for right now."
Coach Alexander said that with the season now begun, the team is trying to work together more.
"Everyone is competing for spots right now, and at the same time we are trying to gel as a team," he said.
The men's basketball team is next set to play against Oklahoma Panhandle State at 8 p.m. on Nov. 20.