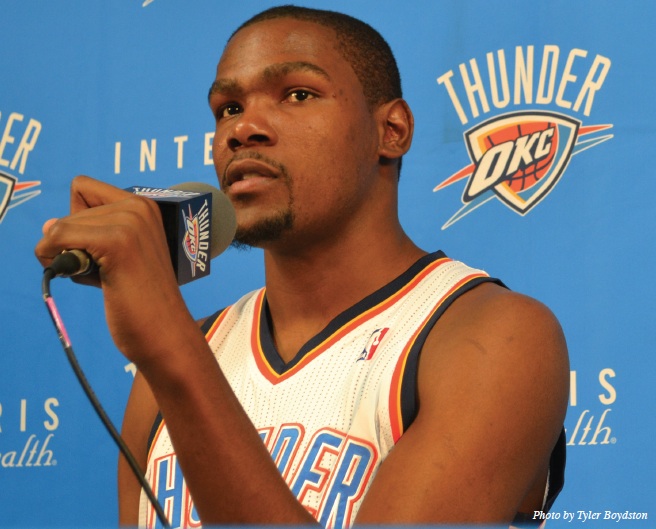 Tyler Boydston
Sports Editor 
The Oklahoma City Thunder has recently begun training for their upcoming season, adding new players to the team while bringing back core players from the previous year.
The loss of the championship to the Miami Heat in June has had an effect on the players of the team as they have prepared to go into training and get ready to come back.
According to Kendrick Perkins, the team's loss in the finals was due to being overwhelmed.
"I think we all understand what it takes to get to the finals, but the finals were overwhelming to a lot of us," Perkins said. "At the end of the day, you still have to give credit to the Heat because they beat us. At the end of the day, we know what it takes to win."
Head coach Scott Brooks said that the team reacted differently than other teams would in the position of losing the final to the Miami Heat.
"When you do lose, the fingers are pointed and you look for blame, but the thing that I am proud of with our guys is that I never saw that," Brooks said.
Over the team's summer off-season, James Harden, Russell Westbrook and Kevin Durant played basketball as a part of Team USA in the Olympics.
According to Harden, playing at the summer Olympics managed to help block out the loss of last season's final.
"It's been a long, enjoyable summer, especially with Kevin and Russell," Harden said. "I think the Olympics kind of blocked the finals out, and now getting ready for a new season is exciting."
According to Kevin Durant, working alongside LeBron James, a member of the Miami Heat, was a challenge.
"To play on the same team after losing to him was the toughest thing, but I had to let that go and just focus on Team USA," Durant said. "I grew a lot mentally when I did that."
Durant said he realizes that the team will not always make it to the finals like they did last year.
"It is not a guarantee that we will make it to the finals every year," Durant said. "Every team is hungry and wants to make to the championship. We just have to take it one day at a time. That is the approach I want to bring to this group. I want to let them enjoy this process and just know that it will be a tough, long road full of ups and downs."
Durant also said that he plans to lead the team by example during the coming season.
"I think I came back as a more vocal leader," Durant said. "I have to try to help my team. There may be times when I am upset at myself when I return to the bench, but I can not let my team see me like that."
While Durant, Harden and Westbrook were playing in London, other team members were preparing for the upcoming season in other ways.
Thabo Sefolosha said that he has prepared to have better aim and a better offense for the upcoming season.
"Every time I want to come back a better shooter," Sefolosha said, "and I think I did a good job this summer, working on my shots and on my game offensively."
According to Sefolosha, the team's goal is to always try to be better than they were in seasons past.
"The main thing for us is to never be satisfied with what we did," Sefolosha said. "We lost a lot of veteran guys, so it is going to be on us as players now to motivate one another."
Though Harden remains under contract this season, a contract extension has not yet been reached.
Teammate Russell Westbrook said that Harden's decision to stay with or leave the team will be based on what is best for his family.
"James is going to make the best decision for him and his family," Westbrook said.
The Thunder's training camp began Oct. 2.