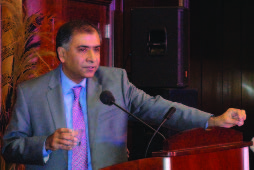 James Meeks
Staff Writer 
India's economy is on the rise and will soon be the third most powerful economy in the world by 2030, according to Dr. Amit Gupta, Associate Professor of the Department of International Security Studies at the United States Air Force's Air War College in Montgomery.
Dr. Gupta served as the keynote speaker on the India Business Forum held on Oct. 5 where he discussed with students India's rise in economic power.
Before Dr. Gupta went into academia to learn to become an instructor, he learned one of the most important lessons in understanding the economy.
"I was in advertising and the first major product that I had to develop a campaign for was women's hair removal and that lasted about three months," Dr. Gupta said. "What I did learn in advertising which I think applies to academia is you can't talk about the economy without understanding the political social market context."
Dr. Gupta discussed the implication for the United States economic interest in South East Asia and how India is growing into a new power in World Affairs along with China.
"By 2020, if you go by International Monetary Funds reports the world's largest economy is going to be China, the United States will be the second, by 2030 India will be the third," Dr. Gupta said.
Dr. Gupta explained that the Reserve Bank of India is also trying to work to keep inflation down with the help of the government subsidies.
"They would like to see an inflation rate of four percent or five percent, right now it is around eight to ten percent," Dr. Gupta said.
According to Dr. Gupta the states of India are becoming much richer and are beginning to make advances in many areas.
Dr. Gupta said: "The median age of India is 25 leaving it to high potential and high risk for future economic ventures."
Dr. Gupta also explained that education is regarded as a top priority in India. Parents often end their children to school to learn technology or a second language because they believe these are important tools for their child's future to help them succeed.
Dr. Gupta said India has the potential to greatly increase their growth rate.
"This is a country that if it can get its act together they can reach a growth rate of twelve percent, Dr. Gupta said. "They don't want twelve percent because they think it will add inflation but would be very comfortable with an eight percent growth rate."
Dr. Gupta explained students can learn from the rise of economic power from another country.
"Get a language, get a skill, show up on time," Dr. Gupta said. "By skill I mean something that you can do if you get thrown out of your job tomorrow, you can always go and do it."