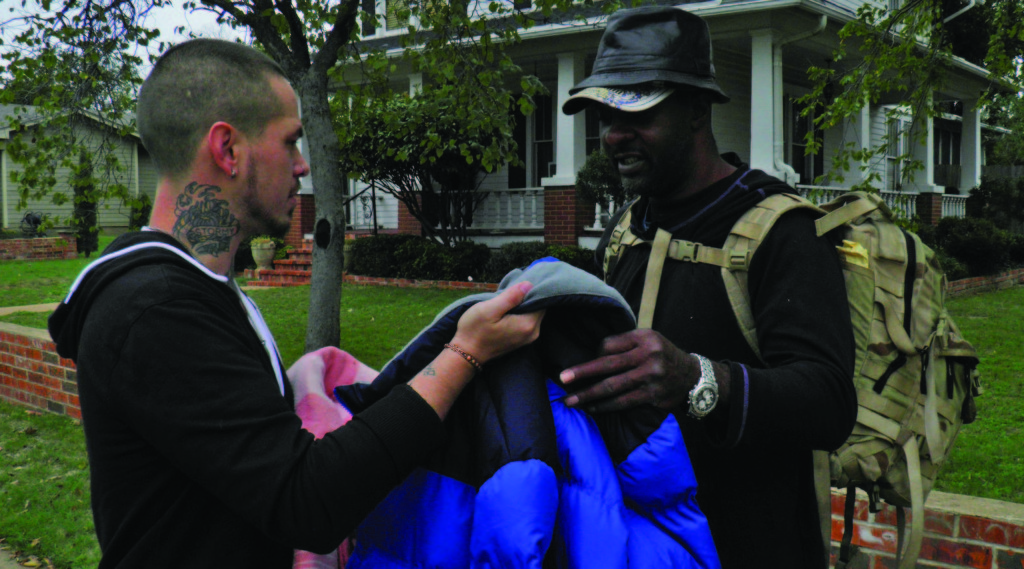 Dianne Riddles
Crossroads Editor 
The Great Plains Compassion Cooperative and the Community of Compassion Clothing Drive are new ways in which individuals can contribute and help the needy in the Lawton community.
Jason Hall is a 30-year-old local carpenter who started the Great Plains Compassion Cooperative with an idea to help others. He said that he had many friends and contacts that wanted to do things to benefit the community, but they had no organization to promote or facilitate benefit events.
"I thought it would be a great idea to create a Facebook page for an organization where there is no president and there is no board," Hall said. "It is just a forum where people come together and put their ideas out there for other people who would like to get involved and help facilitate their ideas."
Hall said that the amount of interest from the local businesses he contacted surprised him.
"I had more people volunteer as donation sites than I could manage, so I actually had to turn down some donation sites because I knew that I was probably going to be the only one to keep up with them," Hall said.
The Community of Compassion Clothing Drive is the first event under the Great Plains Compassion Cooperative name.
"That idea came to me when I was watching kids in my neighborhood going to the bus stop and I saw that some of them were maybe not so appropriately dressed."
Hall said that he wanted to do something to help benefit these children.
"I contacted Lawton Public Schools and said that I was planning to do a coat drive and I was wondering if they would allow me to donate directly to the school," Hall said. "They told me that there were a couple of schools that had coat closets that often had a need and LPS would greatly appreciate any donations."
According to Hall, rather than taking all of the accumulated donations and giving them directly to the school coat closets, LPS asked Hall to be a contact point for them.
"If a principal sees a need for a particular child, they can contact me directly and see if I have something within my inventory that can help that child."
The Community of Compassion Clothing Drive was scheduled to end on Oct. 27, but all donation sites have expressed a desire to continue accepting donations through the winter.
"I assumed that with donation boxes, people would donate more than just kids coats," Hall said. "I just assumed that people would donate some blankets, hats, scarves, gloves, shoes and other clothes, so I figured I would accommodate and find a use for those items too."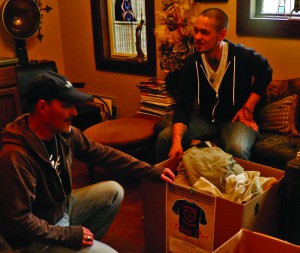 Hall said that he started looking at community organizations around Lawton that help the homeless.
"There are many great organizations that help the homeless out there, although some have red tape involved in trying to get help," he said. "What I want to do is bypass the red tape."
According to Hall, contacting the right people to receive the donations was not an easy task.
"I found that with all of my resources—my computer and my smart phone—I was having a hard time reaching the correct people to give the donations to," Hall said.
Hall hopes to go out with members of the GPCC to handout blankets to people who need them sometime in November.
Hall said that there are two upcoming donation events, one at 10 a.m. and one at 2 p.m. on Oct. 20, at the Vaska Theatre. He said that anyone who brings a donation of one new or gently used winter clothing item would receive one free admission to see a family friendly movie. One donated item will buy one admission ticket.
Hall said that he has some wonderful friends who are helping to make GPCC successful in sharing warmth throughout LPS and the community. His good friend and GPCC member Brente Doan has been an immense help by, among other things, providing flyers for the clothing drive.
Doan said that the organization has provided a wonderful way to give back to the community.
"When Jason first came to me with this idea, I looked in my closet and was ashamed of the abundance of warm coats that I had collected over the years, while there are so many people who are in need of just one," Doan said. "Needless to say, my coat closet is no longer over stocked, and my heart is in a better place because of that."
Hall said that the intention of his efforts was to be an avenue through which people could get involved.
"I do not want people to look at Great Plains Compassion Cooperative and think, 'Jason Hall's Great Plains Compassion Cooperative.' That is not what this is, and that is why I put Cooperative in the title," Hall said. "I want us all to work together to get it done."
Hall listed a few of the many ways that anybody could help: reaching out to local businesses; finding places that are willing to clean coats; helping get things printed; or helping keep up with donation sites.
Clothing donations can be made by dropping the items in drop boxes at these local businesses:
Brente Doan Retreat, 701 NW Arlington Avenue.
Pumpkin Center Cafe, 15703 SW Lee Boulevard.
Acoustic Rock Coffee House, 1408 NW 15th Street.
Hog Pin, 3140 NW Cache Road.
Zumiez, Central Mall.
Shine On Tattoo, 6516 NW Cache Road.
Those wanting more information or wanting to help can contact Great Plains Compassion Cooperative on Facebook or send an e-mail to jdub.hall@gmail.com.