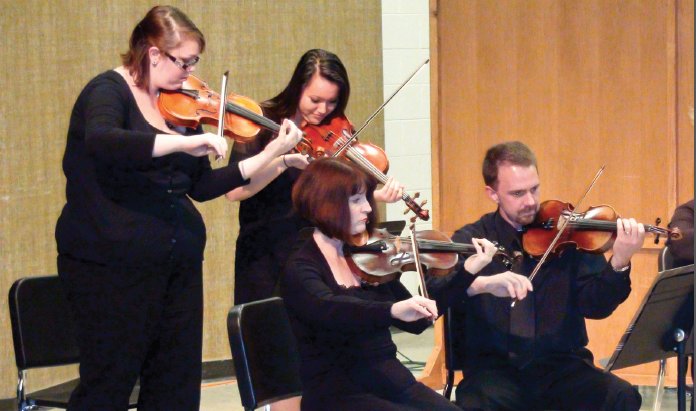 Sarah Brewer
A&E Editor 
Classical music filled the McCutheon Recital Hall when the CU Civic Symphony culminated eight weeks of classes and rehearsals with a Fall Concert on the evening of Oct. 9.
Starting with "Eine Kleine Nachtmusic," a serenade composed by Wolfgang Amadeus Mozart in 1787 often reserved for special occasions, the CU Civic Symphony entertained students, faculty and members of the community with each subsequent song by evoking timeless elegance and excitement.
The ensemble continued to delight the audience with their version of "Jazz Pizzicato" by Leroy Anderson, their take on "Bossa Verde" by Bert Ligon and ended their program with a rousing rendition of "St. Paul's Jig" by Gustav Holst.
Conductor and Assistant Professor Kirsten Underwood did not intend for the songs to imbue the concert with a celebratory feeling; she instead chose songs that were composed throughout several eras.
"We try to do pieces that are very seriously classical, and we try to cover style periods as much as we can. This time, we did classical music with romantic music and music from the 20th century," Dr. Underwood said.
Civic Symphony is structured like an eight-week class as opposed to other 16-week ensembles that are scheduled each semester, but each member of the ensemble dedicates his or her time to perfecting each piece.
"We rehearse for two and a half hours every Tuesday night, and of course everyone practices his or her part at home," Dr. Underwood said. "It is like homework, and we have to come to class prepared so we can concentrate more on musical aspects in the score."
According to Dr. Underwood, CU Civic Symphony not only includes students, but also invites instrumentalists who feel comfortable playing at the concert level.
"We have Cameron students, we have home-schooled students, we have Lawton Public School students and we have older adults in the community who are amateur players who have been picking up what the professionals have been doing," Dr. Underwood said.
Violinist and Eisenhower Middle School Orchestra Director Jessica Foster graduated from CU in 2005 and participated in the Fall Concert.
Foster said she is swept away while performing, and she likens the sensation to sampling a delicious desert.
"For me as a player, what I love are those sweet moments that are kind of like biting into a nice cinnamon roll and savoring that taste. There are moments in different pieces that are like that for me," Foster said.
Foster shares this passion for performing with Spencer Jones, a Cellist and junior Music Education major. Jones has been playing for 10 years and performing as a member of the CU Civic Symphony for one year.
Jones handled emcee duties during the concert, but does not want to remain idle after the course ends. He plans to arrange another concert with other instrumentalists in the latter half of the semester.
"I will be doing this on my own, so it is a 'we'll-see-what-happens' situation," Jones said. "If I can get everything together and lined up, then I plan on having another performance."
Jones said making others happy compels him to play cello, and he hopes to someday teach students and aspiring musicians how to make and appreciate music.
"Music is a universal language, and anybody can listen to music and feel a certain way," Jones said. "Music is important, and I want to be part of the growth of music as a whole."