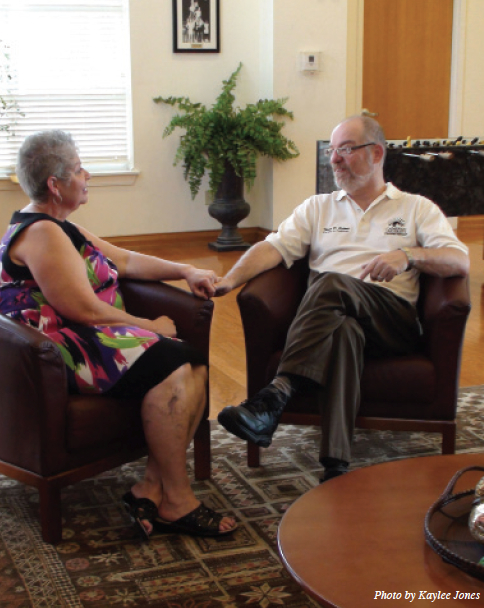 Story by Kaylee Jones
Video by Mikaela Greene
Dr. Thomas D. Balmer became the new Faculty-in-Residence at Cameron University for the Fall of 2012. He began as an Assistant Professor of Psychology in January before being appointed to his new position in July.
He was teaching at another university when he was contacted with an offer for a teaching position at Cameron.
"I got a call saying, 'We have a position open, would you be interested in a position?' A light came on and I went, 'Oh my gosh, I need to come over here and be part of this incredible program,'" Dr. Balmer said.
He currently teaches four graduate-level classes at CU. Both he and his wife, Denise, a hospice chaplain, live on campus in a 2-bedroom apartment attached to the McMahon Center.
Apart from his usual duties as a professor, he has taken it upon himself to act as a mentor to the students on campus as the new Faculty-in-Residence.
"Denise and I pretend that we're sort of the grandparents of all the little grand babies that are walking around that are 18, 20, 40, or however old they are," Dr. Balmer said.
[vimeo]http://vimeo.com/49315947[/vimeo]
He seeks to encourage students by sharing his personal experiences.
"I graduated in the bottom quarter of my high school class. I went to my counselor and he said, 'You need to join the military. You'll never make it in college," Dr. Balmer said. "I didn't care about school so I was not a very good student. I think the military helped me to understand that I am smart. Here I am, I have a Ph.D. and I love to learn. It was a long haul for me to get from the bottom quarter of my class to a 4.0 in my doctorate work."
Another perk of the new position is the living accommodations. He and his wife like to joke that the cafeteria is their kitchen.
"Living on campus is really pretty cool. I tell people, 'That's my pond. That's my front yard.' We like getting to know the police officers, especially when we lock ourselves out," Dr. Balmer said.
His primary goal for the semester is to get the lay of the land.
"Denise and I are making sure to have contact with all the RA's," he said. "We have 14 RA's this semester. We attended freshman move in day. We've already noticed we have students that are here all the time. We're just figuring out what the needs of the campus are."
Another one of his goals is to encourage personal fitness and health for students. Healthy habits have always been a priority of his.
"We need to do a better job at teaching people how to eat and exercise."
He also said he loves that the campus is tobacco free, but envisions more positive change at CU in the future.
"Wouldn't it be neat if all the machines on campus were filled with good food and you had to wait in line to get into the fitness center? I want to live in a world like that," he said.
Dr. Balmer and his wife will likely be spotted walking around campus, holding hands. He said that they are often mistaken as newlyweds.
"Every day is a brand new and incredible day for us," he said. "We want to make sure people see that and that it's available. There's so much brokenness in the world, we want to show that true love really does exist."