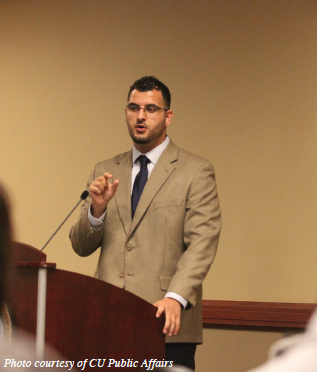 Story by Amanda Goemmer
Video by Kyle Bush
On Sept. 17, Cameron University celebrated Constitution Day and welcomed Muneer Awad, the executive director of the Council on American-Islamic Relations in Oklahoma (CAIR-OK), who discussed Shariah Law as well as the constitutionality of Oklahoma's "Save our State Amendment."
As the plaintiff in the case that challenged the amendment, Awad contended that the amendment was discriminatory and prevented individuals from freely practicing their religion — a basic human right that is guaranteed to all American citizens.
"It was denying Muslims the exact same rights that other people had under the Constitution," Awad said.
Awad, as he began his speech, linked the intentions of those who proposed and supported the amendment to the intent behind the creation and dissemination of the anti- Islamic video, "Innocence of Muslims."
"What we see with this video is the same thing that was behind the amendment to ban Islamic principles of Shariah Law in Oklahoma… an organized effort to really demonize and defame Muslims and Islam, and it is not unique," he said.
According to Awad, those who financed the video can also be tied to groups that have protested the construction of several mosques around the U.S., and that a struggle to build one such mosque is being fought very close to home.
"If we look at one of the main funders of the video we can see a direct relationship to the same groups of people that protested the construction of a mosque near ground zero, but also the same group of people that later moved on to protest the construction of mosques in Tennessee, California, Georgia, Wisconsin, Florida, and even most recently you see the same opposition in Edmund, Oklahoma," he said.
Awad said that the Save our State Amendment impacted more than just Muslims, because it would have banned Oklahoma courts from considering international law. The U.S. government recognizes American Indian tribes as domestic dependent nations; therefore, the amendment would have interfered with tribal law.
"Tribal laws happen to be international laws," Awad said. "A ban on international law would have been a ban on those as well."
The fears surrounding Shariah Law are unfounded, Awad said, because Shariah is structured in such a way that it can be adhered to without interfering with the laws that currently exist in any given nation.
"People need to realize that Shariah mandates that Muslims respect the law of the land they live in," Awad said. "Shariah was not created to take over laws… it was created to coexist within laws."
Politicians focus on Islam, Awad said, proposing legislation like the Save our State Amendment to gain favor in the political arena.
"We need for people to call out the bigotry and stop allowing it to be a part of our mainstream discourse," he said. "Not only is it politically popular to attack Islam and Muslims, but it is politically unpopular to stand up for Islam and Muslims."
According to Awad, some major media outlets portray Islam in a negative light, fueling the fire that drives those who support the Save our State Amendment.
"Fox News actually is really intertwined with the Islamophobia industry; they look for people that they can get on there and they really make a circus out of them," he said. "We would be lying to ourselves if we thought that the media did not have an objective."
However, Awad said that there is a way for the public to change the way that Islam is perceived within the nation.
"I think that we have to create our own media, whether it is a blog, social media or newsletter," he said.
Awad wrapped up his speech saying that the CAIR-OK believed that the courts would ultimately rule in their favor.
"We are confident that the courts will do what they have always eventually done, and that is uphold the Constitution," he said. "Any ban on anyone's religious rights is unconstitutional and the courts will overturn it."