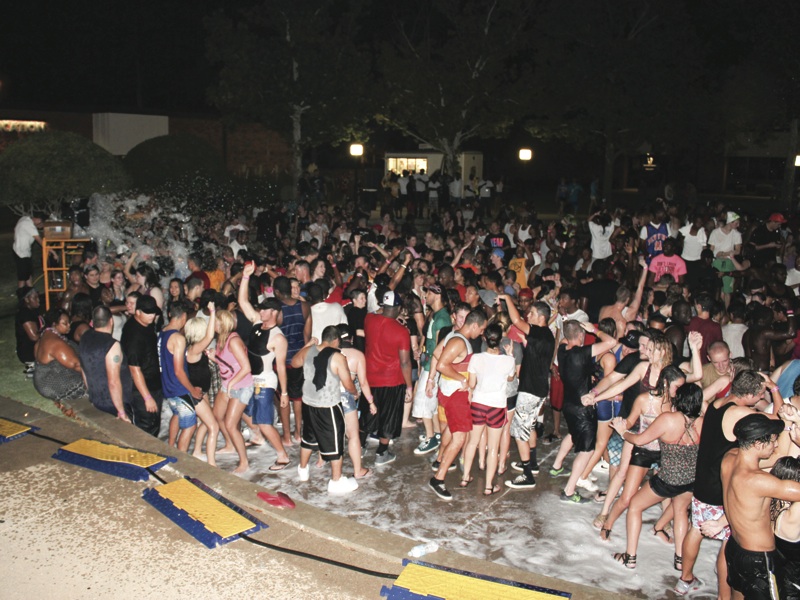 James Meeks
Staff Writer
The Foam Dance party, an annual Programing Activities Council-sponsored event held on the night of Sepember 6 at the Fine Arts courtyard, gave CU students a break from studying for exams and writing essays to celebrate surviving their first few weeks of the semster.
Students donned bathing suits, swim trunks, hulu skirts and flip flops and gathered in the courtyard to dance to the heavy bass that pulsated from stereos as bubbles and flashing neon lights poured onto the floor. The recent radio hit, "Titanium" by French house music producer and dj, David Guetta, featuring vocalist Sia, was an instant crowd-pleaser. Suds and ice-cold blasts from hoses soaked students as they kept dancing until the end of the night.
More students have equated foam with fun.
Sidney McCormack, co-chair of PAC, said that they expected 1,800 attendants for the event, a significant increase from last year.
"We knew what was coming, we knew what to expect and we bought the new foam machine," she said. "We were prepared, we were ready and that has helped with the increased attendance."
With the influx of students choosing to attend CU, the courtyard was filled to near maximum capacity with dancing and socializing. If another 200 people entered the Fine Arts courtyard, the area would have been packed beyond its constraints.
But despite looming space limitations, the event was still organized as students and guests enjoyed themselves.
With the success of the dance party, McCormack hopes that the semester will be just as successful with PAC planning more events throughout the school year.
"We are definitely going to do grocery bingo, some movie nights and karaoke nights," McCormack said.
McCormack also said that PAC will also introduce new events like Blacklight Football and Volleyball throughout the academic year.