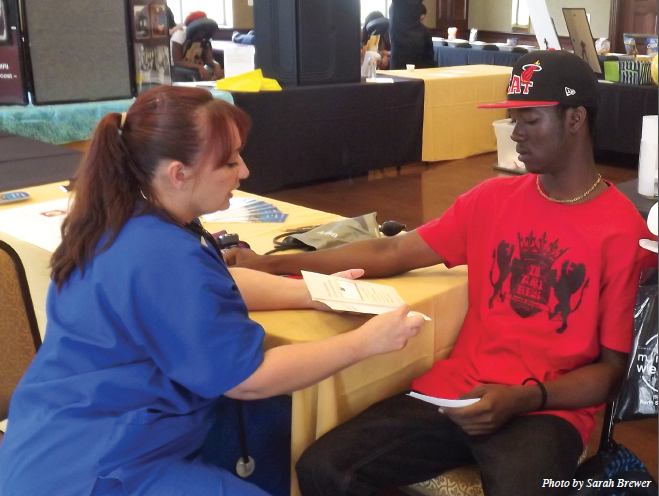 Story by Sarah Brewer
Video by Colton Rowe
In the beginning of September, students learned more about healthy living at the Aggie Health Fair.
The 2012 Aggie Health Fair was a comprehensive, two-hour lesson in preventive health education that benefited students, faculty and staff. The Fair ran from 11 a.m. to 1 p.m. on Sept. 6 at the McCasland Ballroom located in the McMahon Centennial Complex.
Student Wellness Center Director Deanice Shegog explained how the event fosters wholesome living and sets the tone for a healthy school year.
"The purpose of the Aggie Health fair is to provide information to students, faculty, and staff. It provides examples of healthy living, and community providers will offer free services," Shegog said. "It also provides key information to students, faculty, and staff on the services that are available on campus and through the referral system established at the Wellness Center."
These screening services included flu shots, eye exams, blood sugar testing, HIV testing, BMI calculations, massages and chiropractic evaluations, and they were offered free of charge to all students, staff and faculty with a valid ID.
Each vendor offered unique perspectives and insight into various health concerns.
[vimeo]http://vimeo.com/49316054[/vimeo]
Some presented information about tobacco cessation classes, others talked about STD awareness and prevention, and a few gave insight into available pregnancy resource centers.
Sodexo Food Services served samples of nutritious meals, and students were encouraged to create their own trail mix at another table. Meanwhile, therapists from Platt College gave massages to ease the strain that has already stressed students this semester.
Other volunteers, including Comanche County Memorial Hospital Registered Nurse Yvonne Hall, enjoyed teaching students who were there eager to improve their wellbeing.
"Part of education is healthcare, and we enjoy teaching students ways to lead a healthy lifestyle. If students don't do good things with their health, we will see them in our hospitals later," Hall said. "They're going from Lawton to places all over the world, so we hope they will take what they learn here with them wherever they go."
Hall continued to survey the booths in the room and summarized why students should pay particular attention to their habits while focusing on their college career.
"We are doing some screenings here, and we are measuring BMI," she said. " I think we have all realized that once you go to college, you tend to put on some weight because you stay up late and adapt some other habits that are not the best while studying and preparing for the next day."
Some students observed how these habits were affecting their health.
Freshman Information Technology major Kendall Charles and sophomore Psychology major Destiny Fellows went to the Aggie Heath Fair together; while there, Fellows opted for a massage and Charles decided to have his BMI measured and his blood pressure tested.
Fellows emerged from the massage feeling rejuvenated, and she made plans to visit the Wellness Center every Friday and make massages part of her end-of-the-week ritual.
"I just now found out that the Wellness Center offers free massages," Fellows said. "My back was hurting and I really needed a massage, but now I feel better. I feel more awake and alert."
Charles received surprising news too.
"I have gained weight, but my blood pressure is perfect," Charles said. "I learned that eating the right foods and sticking to a diet can help keep my weight where it needs to be."
Charles went on to comment how the knowledge he had gleamed after attending would empower him.
"It is good to know yourself. Sometimes you might be surprised by what might develop later or where you are at, but it is good to know where you are," Charles said.