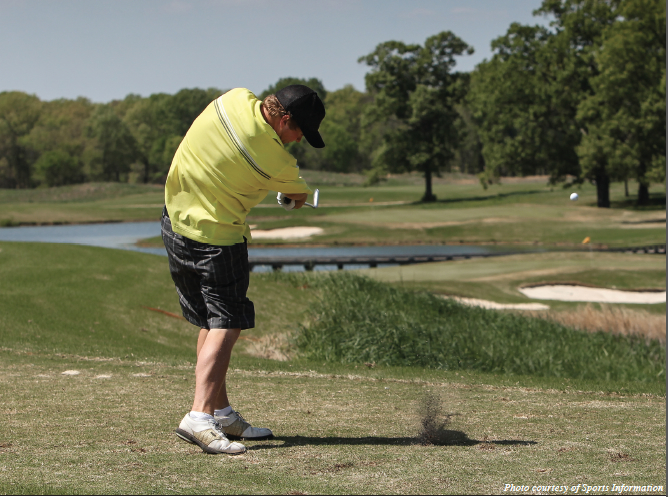 Tyler Boydston
Sports Editor
The men's and women's golf teams start of the season began on Sept. 10 and 11 during the Coody-West Texas Intercollegiate in Abilene, Texas, and the Lady Buff Stampede in Amarillo, Texas.
At the Coody-West Texas Intercollegiate, the men's golf team placed sixth with a score of 587.
The women's golf team finished the Lady Buff Stampede with a combined score of 631, leading them to a fourth place finish.
As a result of NCAA regulations, the men's team was not able to practice until two days prior to their first tournament. Due to differences in schedules, the women's golf team was able to begin their practices on Aug. 25.
According to men's head golf coach Jerry Hrnciar, the team only has 60 days in the season in which to practice.
"We have a 60-day window in which to play all our tournaments and do all our qualifying," Hrnciar said. "When we determine our schedule I count from the last day of our competition. This year happens to be Sept. 8, and we leave the next day for a tournament. In addition, I can be with the students two hours a week prior to this time from the start of school to the first practice, and we use that to get ready."
According to women's head golf coach Rick Goodwin, this fall brings a new sense of competition for the women's golf team, as the players will be competing for spots in tournaments.
"One of the things that we haven't had before is a lot of competition on the team for spots," Goodwin said. "Out of the eight girls, only five get to go to the tournaments and play on the team, so it is very competitive."
The women's golf team has also been practicing for the season with continuing tournaments through September and October.
"Practices are mainly working on adjustments on their swing and some short game adjustments," Goodwin said. "A bulk of the work they have to do is their own. We plan to be very competitive in the Lone Star conference as well as the western region."
This fall will also bring a different way of picking the starting line-up for the men's golf team, as coach Hrnciar explained.
"The biggest change right now since we don't have an opportunity to qualify is setting up a selection process for our starting line-up," Hrnciar said. "I'm using some skill tests, which take about 40 minutes a person, in place of an actual game of golf."
The men's golf team will be playing again on Sept. 24 and 25 in Duncan for the Territory Classic.
"This is the sixth year we have hosted at the Territory. Everybody is invited to come out and enjoy the beautiful course," Hrnciar said.
According to coach Hrnciar, the men's golf team is also preparing for their season lasting through to Nov. 6.
"The last tournament will be in November for the fall semester," Hrnciar said. "We have six tournaments scheduled, one of which will be a JV tournament to give the younger players more experience, and we're expecting a good performance and hoping that we'll solidify our position in regionals by the end of fall."