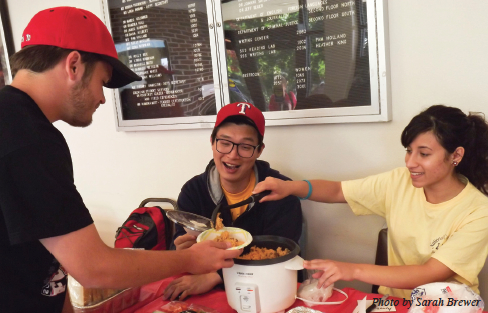 Sarah Brewer
A&E Editor
The foreign language honor society Phi Sigma Iota (PSI) began its 25th year as an established CU organization by stationing its Summer Food Fest from 9 a.m. to 1 p.m. on Sept. 6 in Nance-Boyer.
These seasonal fundraisers serve international cuisine while collecting donations for scholarships, a tradition enacted by the Delta Rho chapter when its members formally installed the honor society on Nov. 3, 1988.
The event treated students, staff and faculty to a veritable feast, and the spread included student and faculty-prepared entrées: Assistant Professor Baillargeon contributed chicken salad sandwiches made from scratch and organic ingredients, Señor Santiago cooked arroz y gandules — rice with pigeon peas — and Assistant Professor Liu prepared a tray of savory eggrolls.
Faculty adviser Professor Teresa Lubrano explained how these Food Fests have long benefited foreign language students with the other philanthropic activities the honor society schedules throughout the year.
"Considering that this is money we raise through our Food Fests, and considering that the profits are donations only, we usually do quite well," Dr. Lubrano said. "We are then able to put all of the money toward scholarships for our students
Each dish was prepared with deserving students in mind, and the funds added to the Lahoma Benke Scholarship, Delta Rho Benke Scholarship, the Honeycutt "Flocci Non Facio" Scholarship and the Graziella Scholarship that are awarded to students.
The honor society promotes sentiments of amity amongst nations and their respective languages. Membership in PSI is the highest academic accolade one can earn in the field of in international languages, according to Dr. Lubrano.
However, Dr. Lubrano remembers a time where CU students and PSI members could not find an organization to recognize accomplishments in the study or teaching of foreign language, literature or culture on campus.
"In 1987, there was no honor society for foreign language students," Dr. Lubrano said. "At the time, we were the only chapter in Oklahoma. Later on, quite a few years later, the international office founded another chapter in Tulsa. We still only have two chapters of PSI in the state."
Professor Lubrano collaborated with Professor George Stanley, the former chair of the Foreign Languages Department, to establish an honor society that would embrace both classic and modern languages.
"We wanted an honor society that would encompass all of the different foreign languages because some honor societies are for specific languages," Dr. Lubrano said. "At the time, we did not offer Arabic or Chinese, but we have always had French, Spanish and German. Then, of course, we added Italian and Latin."
Officers of the CU Delta Rho Chapter seek to increase the society's presence on campus through their scheduled fundraisers and annual induction banquet at the end of the year.
Current President Vivian Arroyo, a senior Romance Language Education major, would like to encourage more students to take courses in foreign languages and forge even global connections.
"Over the semester, we would like to be more widely-known, so maybe more people would be interested in learning a foreign language and maybe pursue the requirements to join PSI," Arroyo said.
To be eligible for induction, students must have achieved at least junior standing and must maintain a 3.0 GPA, and must either major or minor in international or romance languages.
"I think it is very important to learn a foreign language, especially while in college because we are all so closely connected," Arroyo said. "It is so interesting to learn the different perspectives of different people."