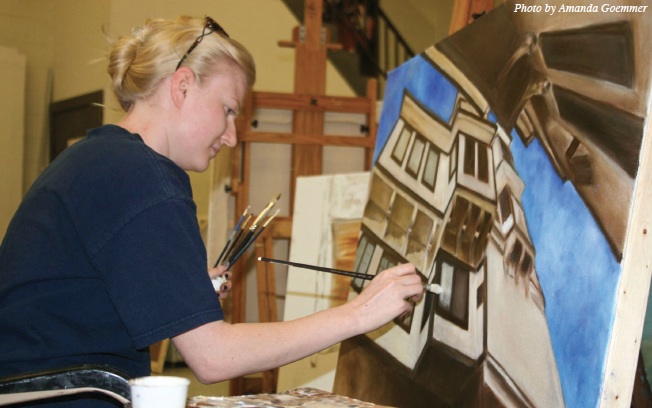 Story by Amanda Goemmer
Video by Pascal Garoute 
On Sept. 19, the Art Guild hosted its freshmen orientation, officially welcoming incoming Art majors to Cameron University while familiarizing them with the organization and its members.
According to Art Guild President Matthew Hughes, the organization is committed to helping its members improve as artists, among other things.
"The art guild is open to any student of any major," Hughes said. "Our main goal is to develop as artists. We work on community service projects and engage not only within the campus, but within the community as well."
During the event, which was held in the Cameron art building, attendees feasted on a Billy Simms buffet while watching a slideshow that featured past and present CU art guild members.
After dinner, Department Chair Edna McMillan discussed the art degree check-sheets that were available to those in attendance.
Hughes said that the event was orchestrated specifically to help freshmen students get off on the right foot at CU.
"We want to let them know that they are welcome into this family and to give them an idea of what to expect as an art major," Hughes said.
[vimeo]http://vimeo.com/49612543[/vimeo]
The Art Guild strives to help its freshmen members in several ways and events like freshmen orientation are just the beginning, according to Hughes. He also explained that the organization holds regular meetings that are dedicated solely to studying art terminology.
"We have huge amounts of vocabulary words that we have to learn, because we have to know how to talk about art," Hughes said.
Hughes considers the guild to be more than a student organization and hopes that the incoming freshmen will grow to feel the same way.
"We are really a tight knit group. We are basically like a huge extended family," Hughes said, "especially during the end of the semester, when we are all here working on projects."
According to Hughes, weekend and evening projects keep many art majors on campus late into the night. However, the Art Guild is trying to make these late night work sessions easier pushing for the instillation of card readers in the art building.
Hughes said that having card readers would benefit the guild as well as students and faculty, while also reducing stress placed on CU security.
"The way it is now, we have to call security to come let us in the building and there has to be two people to be allowed in," Hughes said. "With card readers we would be able to bypass that whole issue."
Bryna Williams, a new Art major who attended freshmen orientation, said that she was excited about getting involved with the guild.
"I like getting creative and having a blast," Williams said. "Obviously, these guys do too."
According to senior Hailey Harris, Art major and long-time guild member, the organization is always involved in something fun. She said that those new to the guild — like Williams — have a lot to look forward to after orientation, because the group provides an ideal home for aspiring artists to flourish.
"It provides a way for artists to get together, collaborate on their pieces, discuss different things about their artwork and grow," Harris said.