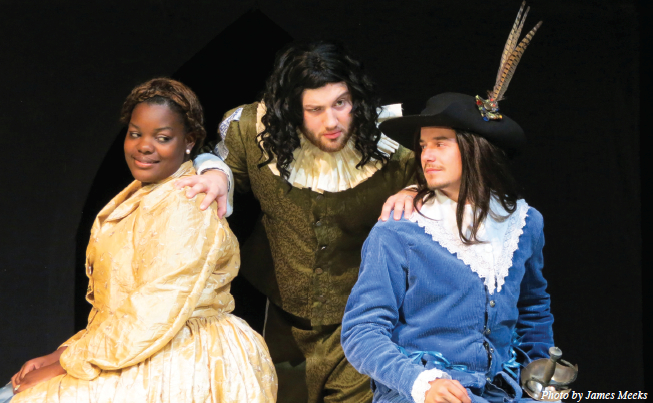 James Meeks
Staff Writer 
The Cameron Theatre will be filled with more laughs than tears for the upcoming season, with a comedy new and old kicking off the theatre's "Year of Manners and Comical Mishaps."
The first comedy, titled 'A Curious Mishap,' will open on Sept. 28.
The play, which Professor Scott Richard Klein will direct, revolves around a poor French lieutenant and the Giannina, the daughter of a rich Dutch merchant.
Klein explained that the merchant, Philibert, tries to prevent the two lovers from getting married because he feels that the lieutenant is not a good match for his high-class daughter.
Throughout the play each character devises their own plan to reach their desired goals, but intersecting plans eventually lead to many mishaps.
"We meet the other girl, a friend of Giannina named Constanza," Klein said. "Philibert tells her the French lieutenant loves her."
This lie leads Constanza to fall in love with the poor soldier; however, she fears her father will not approve, which puts Philibert in the position of trying to convince her father to allow her to pursue the lieutenant.
According to Klein, the audience will relate to the play as the intricate plots unravel.
"Everyone faces the idea of whether their marriage will be accepted," he said. "We all hope that when we marry someone the person we picked is actually going to become a part of our family."
After the play of misunderstandings and mishaps comes the second play of the season, "Table Manners," which is part of the Norman Conquests trilogy.
The unique part of this play is that all three parts of the trilogy actually take place within the same time frame; in one play, someone could walk off stage only to enter the stage in another part.
According to Klein, there have been theaters that have run the entire trilogy at the same time, but the Theatre Department will only run this part of the trilogy.
Auditions for "Table Manners" will be held on Oct. 1 and Oct. 2.
The musical, scheduled to open next semester, will provide a new challenge for the Theatre Department.
Last semester, during the production of "Grease," the crew managed to roll a car onto the stage for the production. Part of the new musical will take place on a plane and Klein states they have yet to figure out how to get a plane onstage, but he has confidence the stage design crew will figure something out.
The CU Theatre Department also anticipates filling its new set of seats. Klein explained how these seats will provide comfort for the audience while they attend plays.
"The old chairs were here since the building was built back in 1979, and after 30 years they lasted quite well," Klein said. "When President Ross decided to do this, it really made the place look great."
"A Curious Mishap" will open Sept. 27. Tickets are $10 for military, seniors and Cameron faculty and staff, $12 for all other adults and free to students with a valid CU ID.