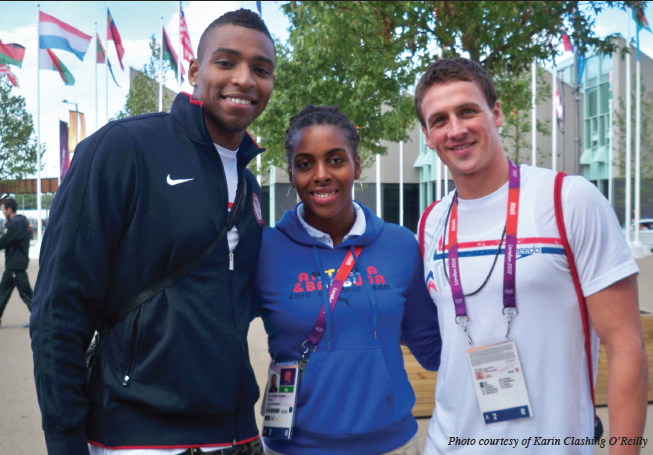 Tiffany Martinez
News Editor 
Hard work, dedication and positivity make dreams come true. This sentiment proved true for Karin Clashing O'Reilly, a sophomore Business major of Cameron University who competed in the 2012 Summer Olympics in London.
Representing Antigua and Barbuda, two small islands in the Caribbean Sea, O'Reilly competed in the women's 50-meter freestyle. Though she placed first in her heat, she did not make it to the semi-finals.
Nevertheless, the experience of it all was enough for O'Reilly, as she explained.
"It was just amazing for me to win my heat, it was a dream," O'Reilly said. "I wasn't in the seed lane, which is supposed to be the lane for the fastest swimmer, but I still won. That was awesome."
Swimming has been a vital part of O'Reilly's life for as far back as she can remember.
"I've always swam," she said. "I started swimming competitively when I was twelve."
Swimming talent runs in O'Reilly's family. Her sister, Christal Clashing O'Reilly, also competed in the women's 50-meter freestyle in the Olympics of 2004. The sisters are three years apart, and regrettably so.
"There is Venus and Serena on the tennis courts, I actually wanted us to be Karin and Christal in the pool," O'Reilly said. "But because of the existing age categories in swim, we could never really do that."
Her mother, Edith Clashing O'Reilly, is a founding member of Wadadli Aquatic Racers (WAR), an elite swim club in Antigua. She coached her daughter through the Olympics.
"It was actually nice having my mother coach me," O'Reilly said. "It's good when you have your coach right there — but when you can call her 'Mom', it's even better."
However, O'Reilly explained that a mother as a coach comes at a price,
"Normally, you can get away with little things," she said. "You can get away with staying up late. You can get away with eating whatever you want. When your mom is coaching you though, you get away with nothing."
Upon earning an associate's degree from a community college in her home country, O'Reilly transferred to CU in hopes of pursuing a bachelor's degree in Oklahoma.
"I did a random search of universities and came across Cameron," O'Reilly said. "I liked the campus. The campus is absolutely gorgeous. I liked the living arrangements, as well as the price. The university just kind of grew on me."
O'Reilly said that the transfer to CU, even after competing in the Olympics, has been pleasant.
"I do not feel like I attract any extra or unwanted attention. I've only recently been featured in my first publication," she said. "Even though I'm proud of what I've done, I'm not one to boast about my experience."
O'Reilly was one of four athletes to represent her country of Antigua and Barbuda, and she was the only swimmer.
"I was in the presence of athletes you normally only see on television, which was kind of cool," O'Reilly said. "But the best part was being able to represent Antigua and Barbuda. It was a real privilege. I was even able to hold my country's flag for the closing ceremony."
O'Reilly plans on visiting the Olympics again in the near future. She continues to prep for this event.
"The pool here at Cameron is much better than the one I have back home. I practice as much as I can here," She said. "It was a huge motivator making it to the Olympics once, but I want to do it again. My ultimate goal is to aim for a medal."
Less than two weeks upon returning home from the Olympics, O'Reilly celebrated her twentieth birthday. She may a year older, but her priorities remain the same: Swimming and school.