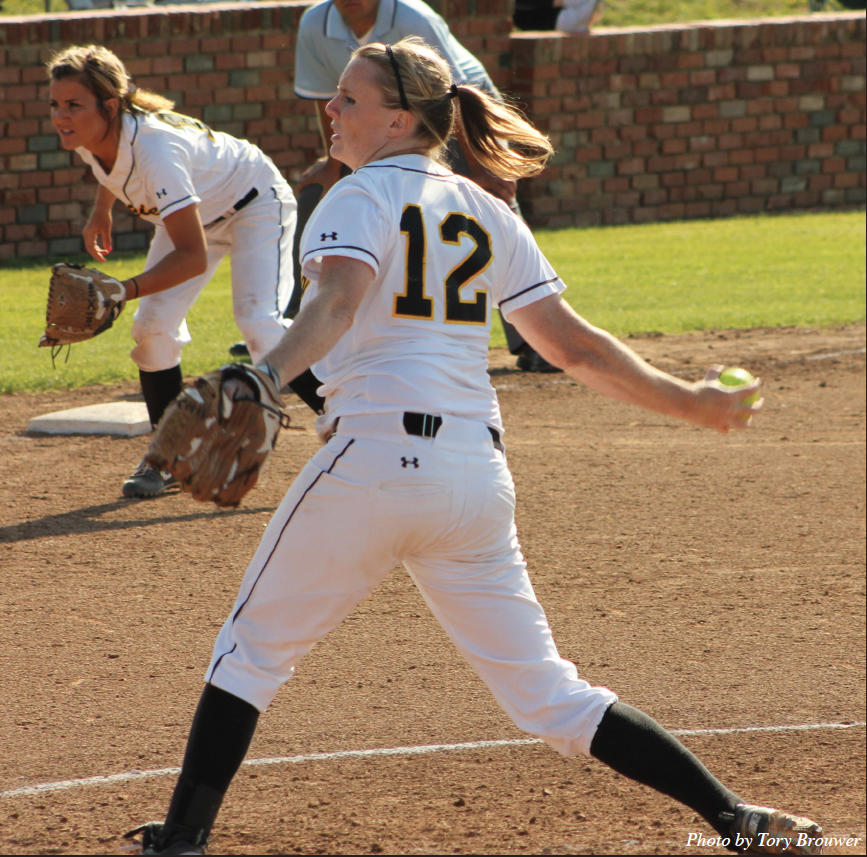 by Miranda Raines
In a three game series against Abilene Christian (24- 10, 10-6) on Friday, April 5, at Cameron Field, the Aggies (15-23, 6-11) were able to pull a win out in game two of the series.
The Cameron Aggie Softball team sat at the eighth and final playoff spot as a result of the games against Abilene Christian and Midwestern State.
Head Coach Beth Watson was proud to say the women were able to take the loss of game one and turn it around in the second.
"It was a great win for us," Coach Watson said. "Game one didn't go our way, but we kept fighting in game two, and Kelsy (Hebert) did a great job in circle in game two. She really had them fooled out there. And they are a great offensive team."
Although sophomore Kelsy Hebert did not get the win game two, she allowed only seven hits in six innings, before senior Carrie Dilks took over.
Some other standout players in the games Friday, freshman Micah Foutch, juniors, Drew Wright, Sonia Foutch and Amanda Karth each picked up RBI's.
Coach Watson said Freshman Tara Martini stood out again as a crucial hitter.
"Tara Martini is proving to be pretty clutch," Coach Watson said. "It's always good to get some timely hitting, and we got that today in game two."
The next day in game three, Dilks took the loss as the Aggies fell 5-1 to the Wildcats.
Martini knocking in her second walkoff hit of the series scoring freshman Misty Dooley, in the one run of the game.
Coach Watson explained that because the Aggies could not string together any hits, it was difficult to score.
"We really wanted to win this game and the series," she said. "We played hard throughout. They just came up with a big hit late in the game."
In the double-header against Midwestern State, CU dropped to 15-26 on the year with a 6-14 record in the conference, on April 10.
The Aggies suffered a 5-1 and 2-0 loss in Texas. Coach Watson said these losses were difficult to take.
"It's tough," Coach Watson said. "These were two games we really wanted. Anytime we play MSU we want to walk away with the victory."
Junior pitcher Cheyenne Brown was first up in game one and allowed three runs on two hits in one and a half innings, before being relieved by Dilks who gave up two runs on five hits.
The one and only RBI of the game for the Aggies came from junior Leah Trousdale in game one. She walked in the run after three consecutive singles in the top of the second.
The Mustangs (20-20, 10- 10) came back quickly with three of its five runs in the second inning, the majority coming from two doubles.
The final two runs in game one for Midwestern State came in the bottom of the fifth, locking in the final score.
Hebert was charged with the loss in game two putting her record at 4-7 for the season. She pitched six innings, allowing six hits with only two runs. She was able to hold the Mustangs off in the final three innings, leaving them hitless.
Even with a loss it was another standout game for Hebert, Coach Watson said.
"Kelsy (Hebert) threw a great game today," Watson said. "She has been doing that a lot lately. We just couldn't get any support behind her. That makes it tough on the pitcher, but she battled and kept us in the game from start to finish."
Dooley and Wright picked up back-to-back singles, but CU was unable to take advantage, leaving the women at a final score of 2-0.
More information is available at cameronaggies.com