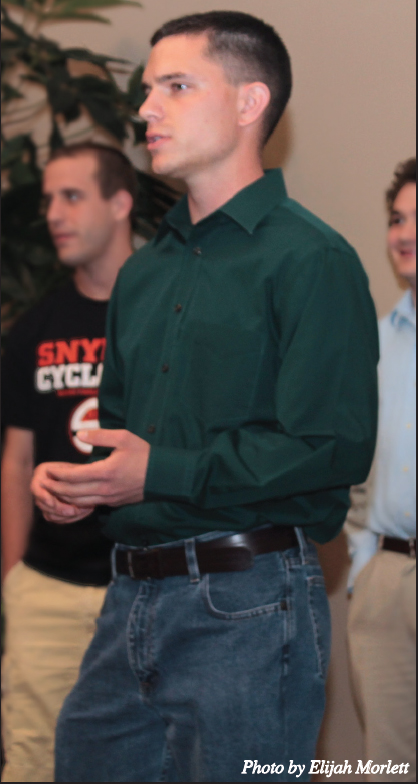 by Elijah Morlett
The votes are in and the student body has made their decision.
After two close elections, 23-year-old Colton Kennedy has been elected as the 2011-2012 Cameron University Student Government Association President.
On Wednesday, April 11, the SGA announced that Kennedy, a senior History and Mathematics major, ended the spring elections with 220 students casting votes for him, leaving Kennedy with 56 percent of the total against his opponent, junior Communication major Teewhy Dojutelegan.
"It was a tough race between me and Teewhy," Kennedy said. "We both campaigned really hard. Overall, it was a good, clean race."
Dojutelegan ended his campaign with 176 votes, or 44 percent of the total.
During the first election, three candidates sought the position, yet none of them were able to attain a majority, or 50 percent plus one of the total votes — a long-standing requirement of the student government.
The SGA hosted a runoff election for the two candidates who accumulated the most votes, forcing the third candidate, junior Biology major Kevin Steib, out of the race.
The runoff made an impact on campus, as more students became involved. Kennedy, for one, was pleased with this outcome.
"More people voted in the runoff election than in the normal election," Kennedy said. "I think we both enjoyed seeing the rise in participation of the student body in the runoff."
According to the election committee's final voting records, the runoff had a 31 percent increase in voter turnout.
Over his term, Kennedy expects to have a more hands-on role, hoping to visit as many departments and organizations as he can in person.
"My major goal is to help the student government get better connected with the student body, the faculty and the student organizations," Kennedy said.
[vimeo]http://vimeo.com/40597777[/vimeo]
Currently, the president-elect is a Cameron Army ROTC cadet and is a member of Phi Kappa Phi, Phi Eta Sigma, Phi Alpha Theta and Pi Mu Epsilon honor societies.
Kennedy will join SGA Vice President-elect Chas Holbrook and Treasurer-elect Seth Geiger in office. Both Holbrook and Geiger ran unopposed and were confirmed to be next year's officers on April 4.
"I think the executive board will work together well," Kennedy said. "Originally, we were going to run as a ticket. We had this team built from the very start."
No comment has been made over possible appointed positions. The SGA president must select a secretary, historian, parliamentarian, sergeant-at-arms, justices of the court and chairpersons for the various committees.
SGA President Cody Gardner will pass the gavel to Kennedy at the university's annual award ceremony later this week.
"I expect Kennedy to make SGA an even better organization," Gardner said. "I am confident he will make Cameron University proud."
Gardner is finishing her second term as president, an uncommon feat at Cameron. She originally began her tenure in 2010, making her departure an emotional experience.
"It's actually kind of a bittersweet feeling," Gardner said. "I am excited Kennedy will take over and I have zero doubt that he will do amazing things. But after two years, I think no matter who replaces me, it's a little sad."
Gardner had one final impact on the student government. In one of the last SGA sessions, she temporarily relinquished her chair to introduce a bill seeking to amend a section of the SGA constitution for clarification.
Students voted on the amendment during the runoff election, with 78 percent voting in favor of the amendment.
The final tally was 199 votes for the change and 55 against.
This is the second constitutional amendment approved this spring. The first amendment changes the election format to an online system that will begin in the Fall 2012 semester.
The bill passed on April 4 with 229 votes in favor and 75 against.
All students that ran for senator of their respective schools and classification were elected.
Each school receives eight undergraduate senators, two for each classification. Additionally, there are six graduate senators and four senators at-large.
The new officers will be officially sworn in during Cameron University's award ceremony at 6:30 p.m., April 19 in the McMahon Centennial Complex's McCasland Ballroom.