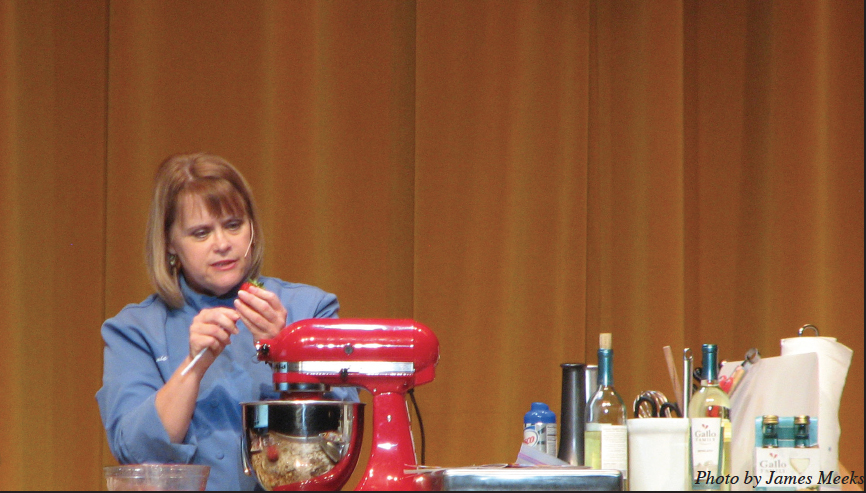 by James Meeks
On April 10th, Lawton held the "Taste of Home" cooking show. Townsquare Media Group, a radio broadcast company that airs Z94, KLAW 101 and MY 107.3, sponsored and promoted the show.
"Taste of Home" is a cooking magazine that shares recipes which people submit to the magazine as well as new recipes they develop.
Nancy Mace, promotions manager for KLAW 101, was responsible for bringing the show to Lawton, as well as for gathering sponsors to the event.
The publication also holds cooking shows all around the nation, with many different culinary specialists touring the country to teach attendees new dishes.
Before the event, attendees were able to browse a vendor show. The vendor show allowed the sponsors to set up booths selling kitchen items such as cutting boards, Tupperware and spices.
The show featured Jamie Dunn, a culinary specialist for "Taste of Home." Dunn explained that she travels around the country teaching audiences 10 recipes from the cooking magazine's line.
"I do 50 shows a year, and I usually do two to three a week," Dunn said.
According to Dunn, one of the things she loves to do while on the road is look for local restaurants
"It's really fun on the road to find local restaurants," Dunn said. "When I get into Texas, I get into barbecue; when I'm in Louisiana, it's all about Cajun food."
Dunn held a meet and greet with V.I.P. members before the show, signing autographs and sharing cooking advice.
During the show, Dunn showed attendees how to make breakfast, lunch, dinner, desserts and snack dishes.
Dunn began the show, she explained, with one of her favorite dishes to eat and ended with one of her favorite desserts to make.
"I love cheesecake," Dunn said. "I also love making the Strawberry Shortcake with chocolate, it's my favorite."
"Shotgun" Steve Kelly, Program Director for MY 107.3, hosted the event and sampled all the dishes that Dunn made.
During the show Dunn and Kelly gave away door prizes such as cookbooks and magazines. After the show Dunn held a Q&A session with the audience and Kelly raffled off her culinary creations for the winners to take home and enjoy.
Those that attended the show received a "Taste of Home" bag, which contained a book explaining how to make the dishes prepared during the show, as well as a free subscription to the magazine.
Future shows as well as recipes and to sign up for a subscription for the magazine can be found on www. tasteofhome.com.