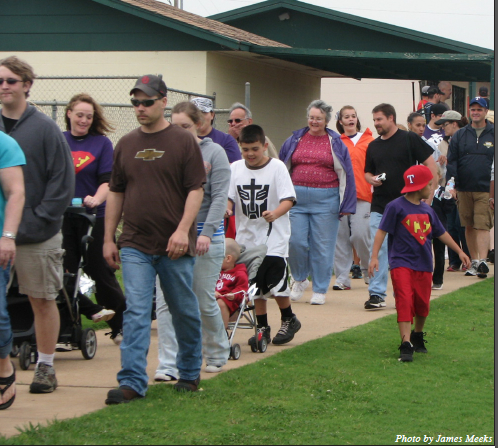 by James Meeks
On April 14, The Curefighters, a group consisting only of the James family, held a fundraiser at the McMahon Softball Complex. The fundraiser was held for their son, Seth James, who is suffering from Cystic Fibrosis (CF).
Mandy and Kent James, Seth's parents, have held this fundraiser for the past seven years to raise awareness and money to one day find a cure for cystic fibrosis.
According to the Cystic Fibrosis Foundation website, CF is an inherited chronic disease that affects the lungs and digestive system of about 30,000 children and adults in the United States.
The foundation's website also states that people living with cystic fibrosis must follow a regular treatment routine to stay healthy and maintain optimal lung function. Most often, treatment for the disease begins with techniques to trigger strong coughs that help loosen and clear thick mucus from the airways.
Seth, a student at Eisenhower Junior High School, said that he is involved in many sports, such as football and wrestling.
"Next year I'm probably not going to do football, I'm going to do wrestling again and also try to get back into baseball," he said.
Seth also explained his post-graduation ambitions.
"When I get into high school I want to focus on one, maybe two, sports try to get better at them so I can get a scholarship," he said. "I want to get a scholarship to OU so I can be a brain surgeon."
He recently just returned from a trip to Hawaii provided by the Make a Wish Foundation where Seth did many activities.
"We did a submarine tour and we also did a helicopter tour where we flied over the island going places and that was pretty cool," he said. "There was a fun part where we were flying over the top of a mountain."
Seth also scuba dived with his dad, where they explored the sea floor, and he also got to watch a luau.
"There was also a luau we went to and that was cool," he said. "There was hula and fire dancing, and the food was pretty good."
Celia Palmer, Executive Director of the Sooner Chapter of the Cystic Fibrosis Foundation, comes to the fundraiser every year to notify supporters how the research is progressing. She also notifies supporters how the money that is raised is being spent, as well the progress on researching a cure.
"On Jan. 31 the FDA approved a drug with the market name Kalydeco, Palmer said. "It began as a laboratory trial 13 years ago. It went through laboratory safety testing with non CF patients, then safety and efficiency testing with CF patients."
According to Palmer, this drug helps cystic fibrosis patients with the G551D mutation of the disease to help improve lung function and lower sweat chloride levels.
Palmer also said that Kalydeco was funded through fundraisers like the Curefighter's, rather than the government or a drug company.
The CFF has other drugs going through testing to help other patients with different mutations.
According to Mandy James, nearly $8,000 was raised to go toward CF research to find a cure, in addition to funding other drugs such as Kalydeco.
The Curefighters will continue to fight their son's disease in hopes to one day find a cure for CF and will keep holding fundraisers for their son and other CF patients.