by Sarah Brewer
Soaked with rain, mud and sweat, CU students joined hundreds of volunteers in Joplin, Missouri, at the Elks Lodge during their spring break to haul fallen tree branches and debris from the tornado-devastated area.
The Elks Lodge was one of the first sites where the EF5 tornado touched down on May 22, 2011, and it was the first task CU tackled alongside other volunteers serving in Joplin during their spring breaks.
Together, they all formed lines like brigades of firefighters and passed debris piece-by-piece to the edge of the wooded area for curb side pickup scheduled for April 16.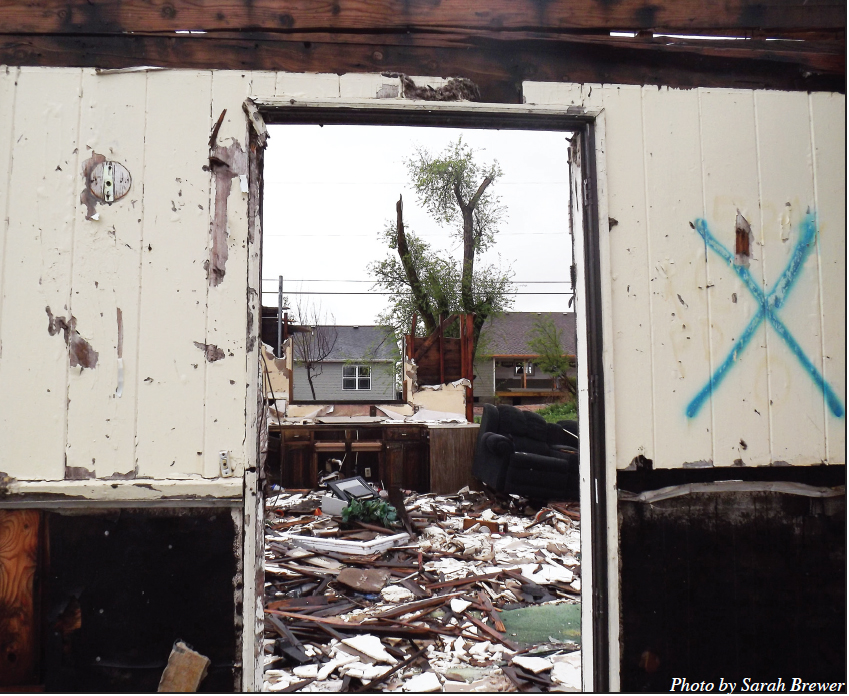 Debris removal is still crucial to ongoing recovery efforts in Joplin, as many of its residents cannot dispose of some of the hazardous materials alone.
CU students working at the Elks Lodge, including 22-year-old biology major Rebecca Aremu and 20-year-old communications major Bishaka Karki, embodied the spirit of service and remained upbeat despite working in a downpour of freezing rain.
Karki said that bonding with other volunteers made her experience enjoyable.
"It's like we all knew each other because we're working as a team and doing the same thing," she said. "It feels really good to see all the people who came out to help in Joplin, even though they were not directly part of the disaster."

Aremu believes that service should be given no matter what the situation.
"It's not about having a take-care-of-your-own mentality. If we say 'take-care-of-your-own' or 'mind-your-own-business,' then there isn't going to be anyone doing what we're doing," Aremu said. "We all have to lend a hand when the alarm sounds, because we never know when a disaster will happen to us."

Reactions to the wreckage in Joplin varied among CU students.

Some, like Aremu, were rendered speechless at the sight of caved-in buildings and rubble still piled high on main city streets.
"The funny part is that we never get natural disasters in Nigeria. The only things we get are floods when it rains heavily," Aremu said. "We don't have tornadoes, we don't have earthquakes; we don't have anything like that. This is my first experience seeing how severe a tornado can be."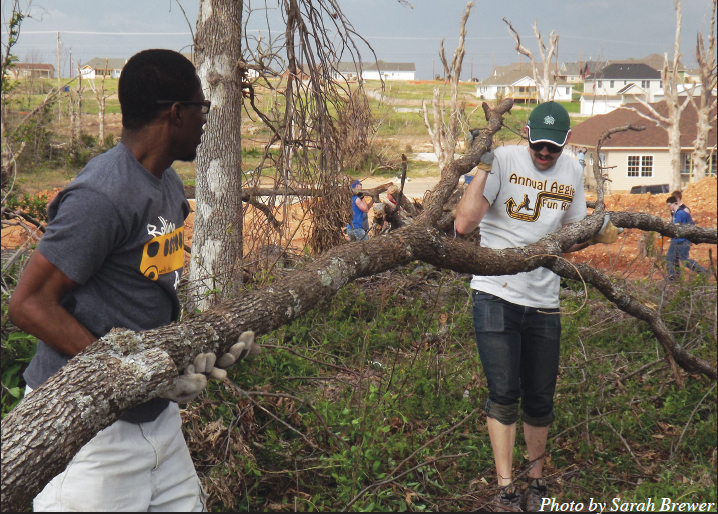 The CU Spring Breakers served alongside experienced volunteers who have been working with non-profit organizations like Relief Spark since the May 22 tornado.
Sidney Ray launched the organization with a group of friends in California after Hurricane Katrina struck New Orleans in September 2005.
According to Ray, teams of volunteers may overlook local agencies and organizations, but those local groups depend on their assistance nevertheless.
"Volunteers serving in a small town may not see or hear of existing non-profit organizations that need post-disaster help because they are focusing on debris removal, but those non-profit organizations need just as much help," Ray said.
CU students completed a variety of other assignments for local organizations, including walking and bathing stray cats and dogs at the Humane Society, archiving negatives from photographer Murwin Mosler's studio at the Joplin Museum Complex, and mudding and prepping walls for a paint at the House of Hope, a non-denominational center that provides faith-based counseling to teens.
Ray applauded the tenacity CU students demonstrated while serving Joplin throughout their spring break trip and was glad to hear that they had received a well-rounded perspective of the resilient city.
"It's one of the best ways to go about recovery alongside rebuilding homes," Ray said. "It all builds community and brings people together."