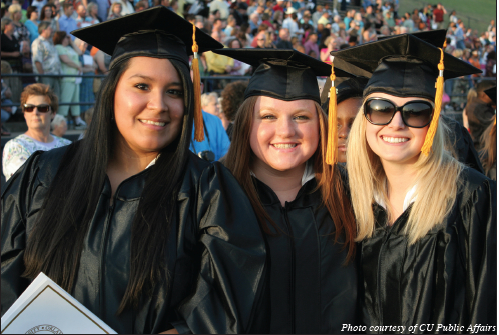 by Colin Durant
Cameron University will hold its commencement ceremony for the class of 2012 at 7:30 p.m. on May 4 at Cameron Stadium. According the Office of the Registrar, approximately 1,030 graduates will be eligible to walk the stage as part of this year's ceremony.
The commencement speaker for this year will be Oklahoma State Regent for Higher Education Toney Stricklin, a Cameron alumni from the class of 1975 and retired Major General from the United States Army. State Regent Stricklin received the Distinguished Service Award from Cameron University in 2000, as well as being named a Distinguished Alumni by the Cameron University Alumni Association in 2008.
In a press release, CU President Cindy Ross said the university was honored to feature State Regent Stricklin at commencement.
"His exemplary leadership and service will encourage our graduates, while his extraordinary accomplishments will inspire them," President Ross said.
[vimeo]http://vimeo.com/41118213[/vimeo]
The ceremony will feature a pre-commencement concert at 7 p.m. by the Cameron University Pan Express, conducted by Dr. James Lambert, Chair of the Department of Music. Commencement will conclude, as per Cameron tradition, with a fireworks display ending at approximately 9 p.m.
Provost John McArthur said commencement is one of his favorite academic events.
"It allows our campus community an opportunity to celebrate successes and accomplishments of our students with their families and our community," Provost McArthur said. "I look forward to congratulating another wonderful class of Cameron Aggies."
Candidates for graduation participating in commencement should report to the east end zone of Cameron Stadium no later than 7 p.m. on May 4 with their card received in their "Graduation Times" mailer.
For students who earned their master's degrees during the 2011-2012 ceremony, Cameron will conduct its Hooding Ceremony at 2:00 p.m. on April 29 at the University Theatre. Oklahoma Secretary of Education Dr. Phyllis Hudecki will be the speaker.
In a press release, President Ross praised the students receiving their master's degrees for their dedication.
"Attainment of a master's degree is the culmination of many years of hard work, sacrifice and academic achievement," President Ross said.
In regards to the tradition of "hooding," Provost McArthur said the ceremony was established to recognize scholarly and professional achievements beyond a bachelor's degree.
"Each university has a distinctive hood that joins the cap and gown to complete the academic regalia," Provost McArthur said. "We are proud of our master's-level graduates and look forward to their continued success."
Regalia for both graduation ceremonies can be purchased at the CU Bookstore in the McMahon Centennial Complex at a cost of $24 for undergraduate and associate candidate packages and $50 for graduate degree recipients, hood included.
Further information regarding commencement can be found at www.cameron.edu/commencement and www.cameron.edu/hooding.