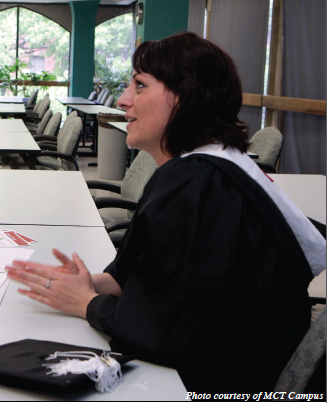 by Tiffany Martinez
Career Services, of the Student Development Center of Cameron University, is approaching its busiest time of the year: the end of the spring semester.
As students prepare to receive their degrees in just a few short weeks, the staff of the Student Development Center is providing Aggies with the tips and tools to complete their graduation check lists.
Director of Student Development, Dr. Jennifer Pruchnicki has been preparing students to enter the work force for the past six years.
"Career Services helps students through pretty much every step of their career development," Dr. Pruchnicki said. "We help with resume writing, interview techniques, and even networking."
According to Dr. Pruchnicki, Career Services is open to all current CU students, as well as alumni, at no cost.
"President Ross has implemented the Cameron Guarantee Program, which is great," Dr. Pruchnicki said. "So if there is a Cameron graduate that's not prepared for the job force, then they can have the remediation or extra classes that they need. I really think our Cameron grads are ahead of the game."
Located at the third floor of North Shepler, Career Services is open to Aggies all year round.
"Spring is very busy for us, but we could always be busier," Dr. Pruchnicki said. "We hope that students continue to come in. We know they are looking for summer jobs and internships and that is something we are glad to help them with."
Career Services is open 8 a.m. to 5 p.m., Monday thru Friday. The staff encourages appointment making, but it is not required.
"We recommend that students make an appointment so that we can give that one-on-one time to them," Dr. Pruchnicki said. "We also have 'Walk In Wednesdays.' Every Wednesday from 12 p.m. to 3 p.m. we set aside time to help students."
The benefits of Career Services are available online as well, Dr. Pruchnicki explained.
"We recognize that students are very busy, and not all of them fit into an eight to five mold," Dr. Pruchnicki said. "We have great tools that are available online. There are resume templates that can be completed by students and sent into our office for feedback."
In addition to providing students with books, DVD's, magazines, online services, snacks and self-assessment tools, Dr. Pruchnicki said that Career Services holds a numbers of events each year for job-seeking Aggies.
"We do an Exploring Major Series every year that offers students an opportunity to speak with a faculty member or someone working in their field of interest," Dr. Prucknicki said.
She said events such as the Exploring Major Series are beneficial because it gives students a closer look into the types of jobs they hope to pursue.
"They are able to get advice, or find out how much money they could be making," Dr. Pruchnicki said.
Career Services aims reach any CU student that desires assistance in the workforce.
"We have companies that contact us specifically to employ Cameron students and alumni," Dr. Pruchnicki said. "And they should want them because they're the best."