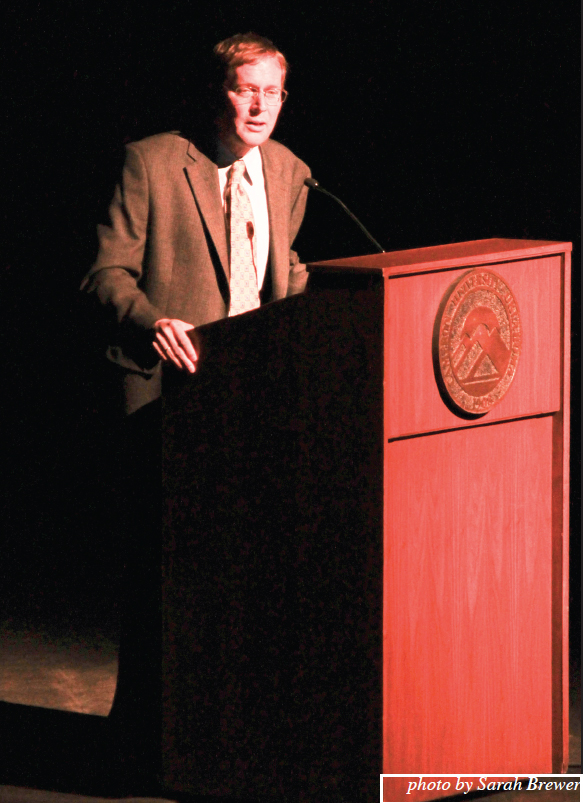 by Sarah Brewer
Archaeologist, explorer and curator of the National Geographic exhibit, "Afghanistan: Hidden Treasures from the National Museum, Kabul," Dr. Fredrik Hiebert, spoke to staff, faculty and the community on March 27.
The Cameron University Art Department sponsored the visit, and his lecture was presented in concurrence with Cameron's triennial Academic Festival, "Afghanistan: Its Complexities and Relevance."
Dr. Hiebert has traced ancient trade routes overland and across the seas for more than 20 years. He has led excavations at ancient Silk Road sites across Asia, from Egypt to Mongolia. In addition, he conducts underwater archeology projects both in the Black Sea and in Lake Titicaca.
His discovery of lost Bactrian gold in Afghanistan in 2004 is the focus of his exhibit, which drew over a million visitors in the United States and continues to tour around the world.
Dr. Hiebert was welcomed at a luncheon held at the MCC Ballroom entitled, "A Taste of Afghanistan." He gave a presentation of his past endeavors and a preview of his forthcoming lecture as guests dined on Afghan cuisine Sodexo prepared specifically for this occasion.
[vimeo]http://vimeo.com/39889784[/vimeo]
According to Dr. Hiebert, Afghanistan's food is indicative of its culture.
"People will say, 'that tastes a little Indian' or 'that tastes a little Persian' and it's true," he said. "It all melds together into a unique flavor."
During his lecture later in the evening Dr. Hiebert told a story of an ancient culture and of modern heroism, recounting the discovery one of the largest collections of intact ancient art that is said to exist.
The tale began in 1988 in Afghanistan, after the nation had endured 10 years of a violent civil war. Government and National museum officials worried that the museum in Kabul would be destroyed or looted, so they moved its historical artifacts to secret hiding places before the Taliban initiated a campaign to "destroy all images" in 2001.
In 2003, reports revealed that several trunks from the museum that had been deposited and at the Central Bank in Kabul and were still intact.
For Dr. Hiebert, the news revived the hope of finding the long-lost artifacts.
"For two decades, we had discussed the fate of the Bactrian gold," he said. "Nobody knew where it was; in fact, there had been rumors that it had been stolen or melted down or taken away to Russia. "
However, when the vault was cracked open, Dr. Hiebert and his team were skeptical when they saw piles of old plastic bags containing beads and jewelry instead of gleaming mountains of gold.
"We had never seen anything like this," he said. "I was expecting this to be a moment of wonder but for most of the people who were there, it wasn't."
Dr. Hiebert described the instant he and his team realized that the contents of the plastic bags were confirmed to be the hidden treasure they had been searching for.
"Finally—and I remember this moment so clearly— our excavator Viktor Sariandi pulled out a flower hair piece made of gold," he said. "He looked at it and his eyes got really large. It was at that moment that the aura of disbelief fell from the eyes of the Afghans and realized they had saved their own cultural heritage."
Dr. Hiebert then explained how the artifacts were selected for the exhibits and dismissed claims that these historical objects were are kept out of Afghanistan for safekeeping.
"These treasures are the best ambassadors Afghanistan has in terms of telling the story of a unique culture that has been important to the world for thousands of years and continues to be important today," he said.
Dr. Hiebert hopes that the exhibition changes every misconception people may have about Afghanistan.
"Afghanistan has a deep cultural heritage, and if we can get that understanding and we can get your curiosity up about Afghanistan as an interesting place for human interaction than our exhibit and our work has done its job," he said.