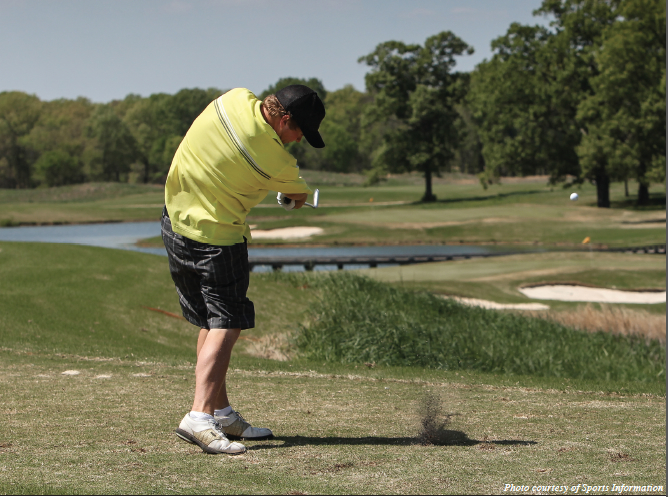 by Colin Durant
Cameron Aggie men's golf won the Lone Star Conference Men's Golf Championship title on April 17 during the Firestone-sponsored league event at the Trophy Club Country Club in Trophy Club, Texas in their eighth-ever conference win, the last being in 2008.
The men won with a score of 863 on 54-holes, one stroke under par. The Aggie men were the only team to score under par overall at the event with the closest competitors being Abilene Christian in second place at three strokes over with a score of 867 and Midwestern State in third with a score of 873, nine strokes over par.
Despite a somewhat disappointing fall season for the team, Head Coach Jerry Hrnciar said he believed in his team going into the tournament.
"At the start of the tournament I told the men we had the most balance," Hrnciar said. "It showed today. Everyone had a sub-par round. We put a lot of effort into it. A lot of people thought we were down this year.
But, the most enjoyable part was to have three second team all-conference players to Abilene's three. I told the men to go out and beat the first team this year. That's what we did."
The men started off their first and second days strong with scores of 288 and 283 respectively, but faltered slightly in the third day of play with a score of 292. Cameron had the advantage going into the final day with a five stroke lead over Abilene Christian.
Coach Hrnciar said the team had a tough time putting on the first day but fought back with the leadership of senior golfer Garrett Smith.
"Garrett putted extremely well," Coach Hrnciar said. "That's something we did better today, but I still saw five little putts missed, which broke my heart."
Despite the adversity, Coach Hrnciar said in an interview with The Lawton Constitution his team fought a hard battle to secure the victory.
"It was a battle all the way through and there were some times I thought we were really in trouble," Hrnciar said. "I couldn't be prouder of the way these guys fought off adversity and were able to bring it all home."
Garrett Smith charted the course for his teammates finishing one shot under 215 (71-68-76) and third place overall in the tournament, as well as earning all-tournament honors.
Other golfers for Cameron included junior Trey Lawson, also all-tournament, with a one-over par 217 (74-71-72), junior Brady Porter at 218 (73-74-71), sophomore Michael Kelly at 219 (76-70-73) and junior Kregg Wood at 231 (70-85-76). Lawson, Porter and Wood had previously received all-conference honors going into the championship.
Coach Hrnciar said the win reflects a determination in his team.
"We had some things go bad for us early but somehow everyone was able to hang in there," Coach Hrnciar said. "Golf is such a mental game and I think the guys really showed they have what it takes to get the job done."
The win secures the Cameron men a chance to extend their season with an entry into the regional tournament to be held at the Jefferson City Country Club in Jefferson City, Missouri on May 6-9.
The women's golf team also competed in the tournament finishing in fourth place with a score of 629 after two rounds, 53 strokes over par. The women fell to Tarleton State, taking first place, Midwestern State, in second, Texas A&M-Commerce, in third, and tying for fourth with Angelo State.
Women's Golf Head Coach Rick Goodwin said the team experienced growth this year, setting themselves up for future success.
"We are still young, so we will all get to play together for a couple more years," Goodwin said. "We need to keep improving but it's nice to see how we've grown this season."