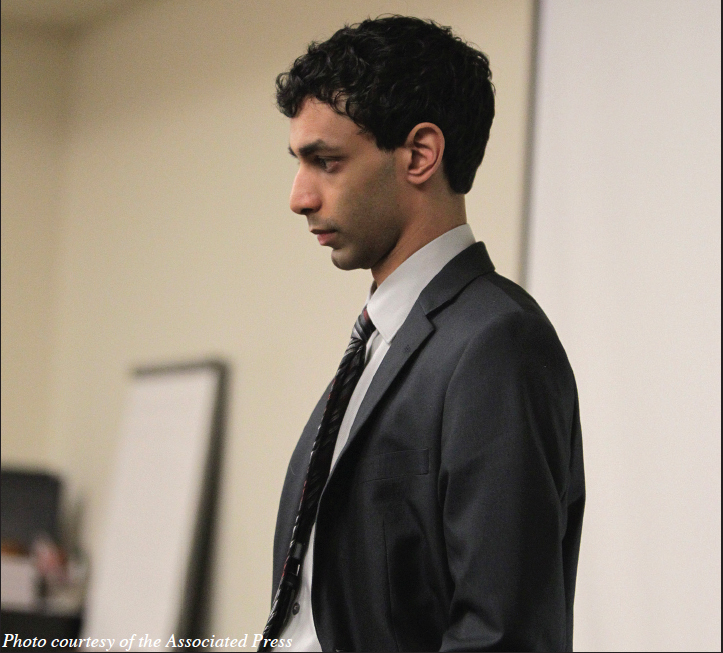 by Colin DuRant
Dhuran Ravi, the former Rutgers University student accused of using a webcam to spy on his roommate, began his trial by jury this past week in the Middlesex County Court in New Brunswick, New Jersey.
According to an indictment from the Middlesex County Prosecutor, Ravi faces conviction on up to 15 individual charges including: bias intimidation, invasion of privacy, witness and evidence tampering.
The trial began 18 months after the incident, in which — as reported in a Middlesex County Prosecutor news release — Ravi used a webcam to view and transmit a live image of 18-year-old Tyler Clementi on Sept. 19, 2010.
On Sept. 22, 2010, Clementi committed suicide, jumping from the George Washington Bridge in New York City, after learning of the video spying and a second incident of privacy invasion which took place on Sept. 21.
According to the prosecution, the live stream showed Tyler Clementi engaging in sexual activities with another man, which Ravi and Molly Wei — friend of Ravi and hall mate of both students — privately viewed and made posts about on Twitter.
Wei was also charged in the original indictment, but on May 6, 2010, Wei made a plea agreement with the court. Court documents show that Wei's charges were dismissed in exchange for agreeing to testify against Ravi, complete 300 hours of community service and attend sensitivity counseling.
A statement from the family of the victim commented on Wei's agreement.
"Actions have consequences," the statement said. "We wish Ms. Wei will become a person who will make better decisions, help people and show kindness to those she comes in contact with."
Ravi's jury trial began after Ravi rejected two similar plea bargains from the Middlesex County Prosecutor's office, one of which would have resulted in only a probationary sentence.
Ravi's attorney, Steven Altman made a statement following Ravi's rejection of the agreement.
"Why would he reject the plea? He's innocent," Altman said. "He's not guilty. That's why he rejected the plea."
According to Louis Raveson, a Professor at Rutgers School of Law, the prosecution's main challenge regards the bias intimidation charge, a hate crime which has only been a part of New Jersey law for 10 years.
"In order for it to fit the definition of bias intimidation, the act doesn't have to have been for the purpose of intimidation," he said. "If you can show that the victim was intimidated and reasonably believes he was singled out because of his orientation, that can be sufficient."
Chris Adams, a criminal defense attorney practicing in New Jersey, highlighted the difficulty surrounding prosecution of bias intimidation.
"A jury has to be sure beyond a reasonable doubt that the accused is guilty of intimidating someone because of their sexual orientation," Adams said.
According to court reporters, most of the opening arguments for the case and the jury selection for the trial have been focused primarily on painting conflicting images of Ravi's intentions and state of mind during the video-spying.
"This case illustrates the ways the fields of hate crime and cybercrime prosecution are expanding," the New York Times reported.
Mr. Altman, attorney for the defense, focused on downplaying the personal aspects of the crime.
"We do stupid things, we make mistakes, especially when we're young," he said. "It doesn't mean we're hateful, we're bigoted or we're criminal."