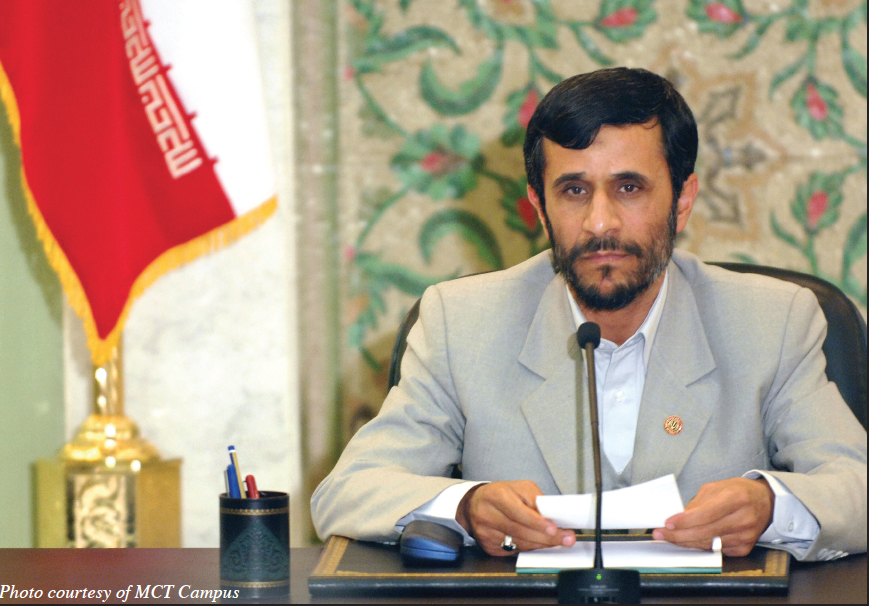 by Colin DuRant
Relations between the West and Iran have become more strained in the past few weeks in light of Iranian administration's recent moves to change policies regarding exportation of oil and advancements in Iran's long-opposed nuclear programs.
Late in January, Iranian energy officials announced a plan to reduce oil exports to European and Western nations involved in sanctions on Iran.
Iranian officials have since mostly reneged on their threats, and as of Feb. 27, the Iranian embargo has only affected Britain and France.
However, the lack of predictability of Iranian oil exports and concerns about their nuclear programs have served to drive up the price of crude oil around the world.
The International Atomic Energy Agency (IAEA) sent a team to Iran to discuss the state of their nuclear program last week. According a press release from the IAEA,
"Intensive efforts were made to reach agreement on a document facilitating the clarification of unresolved issues in connection with Iran's nuclear program," the press release said.
The general director of the IAEA, Yukiya Amano, spoke to the Washington Post about Iran's nuclear program.
"I can say they (Iran) have well over 3000 kilograms of enriched uranium of 3.5 percent, and it is increasing," Amano said.
According to Israeli Prime minister Benjamin Netanyahu, Israeli officials have stepped up rhetoric regarding a potential preemptive strike against Iran to prevent that nation from acquiring nuclear capabilities.
"The IAEA report constitutes additional proof that the State of Israel's assessments are correct. Iran is continuing with its nuclear program without let-up," he said.
At a ceremony for Hezbollah commanders, Deputy Defense Minister of Iran Ahmad Vahidi spoke on his country's willingness to strike.
"Iran's warriors are ready and willing to wipe Israel off the
map." Vahadi said.
Director of National Intelligence James Clapper testified in the Senate to the Senate Select Committee on Intelligence regarding Iran's nuclear capabilities and their level of determination about acquiring nuclear weapons.
"We assess Iran is keeping open the option to develop nuclear weapons, in part by developing various nuclear capabilities that better position it to produce such weapons, should it choose to do so," Director Clapper said.
Despite this assessment, however, most American agencies have reported Iranian nuclear capabilities lay far behind the ability to actually create a nuclear bomb in the very near future. In an interview with the New York Times, Kenneth Brill, former United State Ambassador to the IAEA commented on Iran's intentions.
"I think the Iranians want the capability, but not a stockpile," he said.
Chairman of the Joint Chiefs of Staff General Martin Dempsey appeared on the CNN television program Global Public Square for an interview with Fareed Zakaria on Feb. 19. General Dempsey addressed the Iran issue and expressed the same belief that Iran's pursuit of nuclear weaponry is unclear.
General Dempsey also spoke about the possibility of an Israeli strike and American desire for the State of Israel not to do so.
"Well I'm confident they (Israel) understand our concerns," he said, "But I also understand that Israel has national interests that are unique to them."
In a report which has been called into question, Washington Post editorial writer David Ignatius wrote that, according to an inside source, Secretary of Defense Leon Panetta has rationalized the possibility of an Israeli attack.
"Secretary Panetta believes there is a strong likelihood that Israel will strike Iran in April, May or June," Ignatius wrote.
Secretary Panetta and the Pentagon declined to comment officially on the remarks.
The United State's relationship with Iran has long been strained, dating back to the Iranian Revolution in 1979 in which the Western-supported monarchy, under the Shah Mohammad Reza Pahlavi's leadership, was dramatically overthrown.
The new government established itself as an Islamic Republic, where Islamic clerics hold most governmental positions.
No formal diplomatic relations exist between the United States and Iran. Most foreign policy discussions between two nations take place through intermediaries such as the European Union and the United Nations General Assembly.