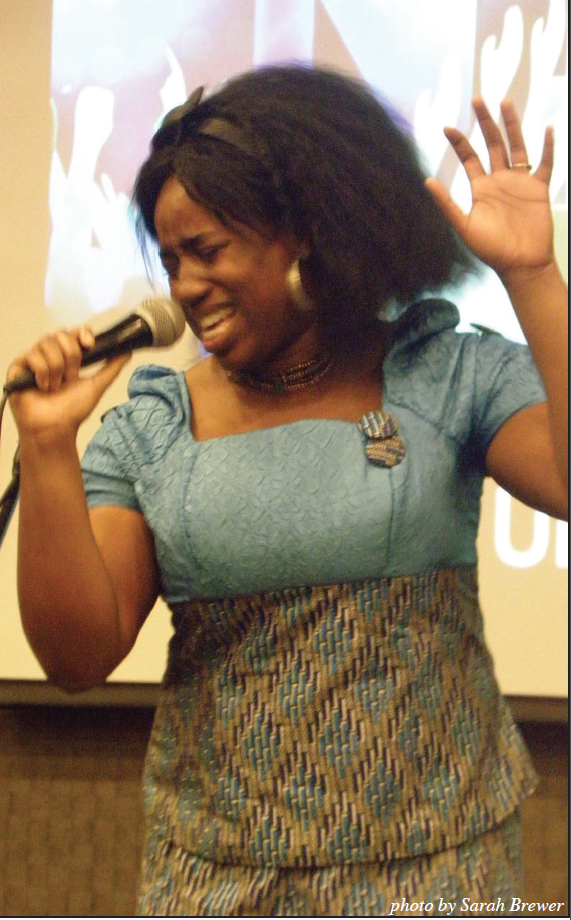 by Sarah Brewer
Students of the Cameron University Nigerian Student Association (NSA) gathered for an evening of praise and worship at the Shepler Ballroom on March 2 at 6:30 to 9:30 pm. The group asked a simple question of attendees with the night's theme: "Praise is what I do. What do you do?"
Throughout the evening, the CU chapter of NSA directed the event's theme as an invitation to other students and members of the Lawton/ Fort Sill community to witness how Nigerian students express their faith.
Members from other local congregations including Pastors Roger and Velma Mitchel from Lawton's Soldiers of Faith Family Church and Brother Steve from the Cameron Baptist Church participated, reading from the Bible and leading prayers.
NSA Vice President Yvette Unoarumh, a 22 year-old senior Biology major, explained that while the purpose of the bi-annual event may be one opportunity to worship God, the students of NSA believe that praise should not be limited to certain occasions.
"We are going to praise today, but praise should be an everyday thing," Unoarumh said. "You can do it in your own way in your own time. You don't have to praise God for two or three hours of day. You just have to praise God."
Unoarumh described another characteristic of Nigerian worship higher levels of enthusiasm and reverence that may cause alarm among students unfamiliar with Nigerian traditions.
"We bring so much energy," Unoarumh said. "The whole place will be a sight. The whole place will be electrified. Instead of attributing their (the students) dancing to a club song, they are truly praising God."
Entertainment added excitement throughout the evening, including contemporary praise songs and traditional hymns, stand-up comedy, demonstrations of dance, poetry recitation and a skit entitled, "Praise Gives More." Students wore traditional Nigerian attire and performed in their own native dialects.
Dialects have specific purposes in praise, according to Adebola Fadipe, a 28 year-old graduate student currently earning a Master's degree in Business Administration.
Fadipe sang several solos throughout the evening, and explained how singing in her native dialect emphasized cultural differences during her performance.
"I sang it [the songs] in my dialect, and I added some English names of Jesus, Jehovah of Nicea and El Shaddai, King of Kings and Lord of Lords," Fadipe said.
Fadipe also explained how substituting the name of God with more personal references within the same song allowed each listener in the audience to apply the lyrics to his or her own life.
"Sometimes I could hear the audience when I called God by a name that they could recognize or identify with," Fadipe said. "If they've been in trouble and God helped you, then if I call him the Hand that Picks You Out of Trouble, that's something they can relate to."
For Fadipe, than performance was more of a declaration of her faith than a show put on for the audience.
"That's why I closed my eyes. I was just envisioning God," Fadipe said. "Sometimes you have to think really deep before you understand what God has done for you."