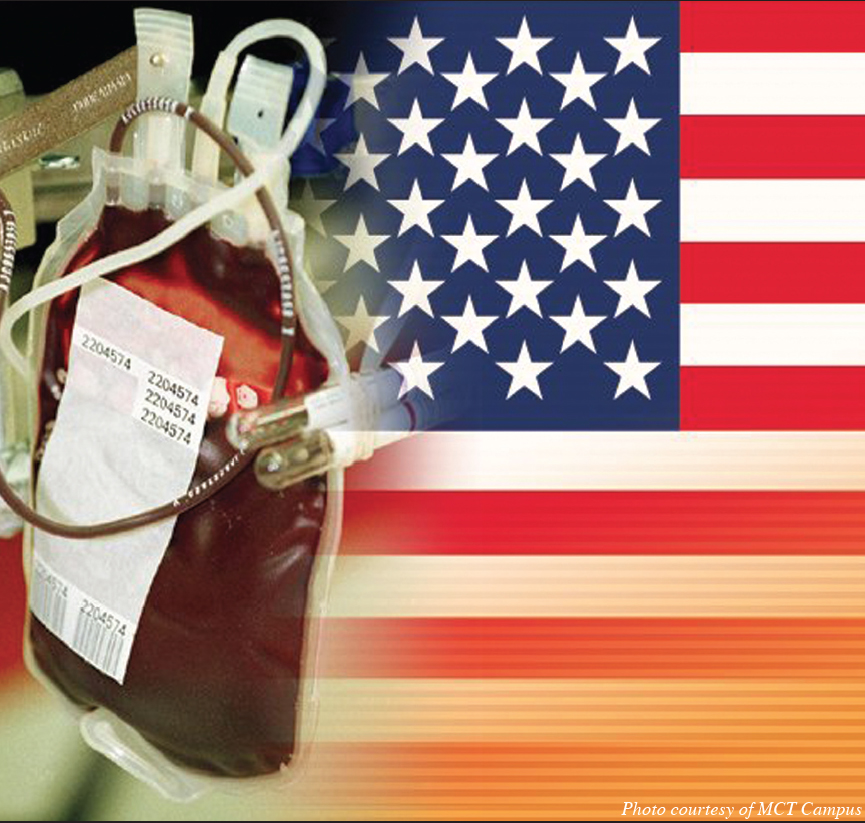 by Dianne Riddles
The George D. Keathley Department of Military Science will host a blood drive from 9 a.m. to 2 p.m. on Wednesday, April 18 in Burch Hall.
According to Department Chair and Professor of Military Science Lieutenant Colonel Rod Boles, the blood drive in April is one of two blood drives the department hosts every year.
"To be a United States Army Officer, you have to be well-rounded; you have to have a great partnership not only with the military but with the community as well and we believe that part of being well-rounded is being part of the community," Boles said. "One of the ways we have decided that we can give back is through giving blood, so twice a year, once per semester, we coordinate with the Oklahoma Blood Institute for the blood drive."
Boles said that the Oklahoma Blood Institute (OBI) will be set up in Burch Hall for four or five hours and anyone is welcome to donate.
"It is a good way for us to give back; not only Army ROTC or Military Science, but anyone on or off campus can come here to donate blood," Boles said. "It is just a great opportunity to give back."
According to Boles, the department also participates in other community activities.
"We had a food drive at Christmas that was wonderful; when we had the big ice storm, a bunch of our students and staff picked up limbs to help beautify the campus," Boles said. "We have also had folks go to the Salvation Army during Christmas and ring bells to help raise money."
Boles said that there is an abundance of volunteerism on the Cameron campus.
"We just have wonderful students that volunteer their time all the time," Boles said. "For example, civic organizations in town asked us to provide Color Guard at some functions, and we do."
According to Boles, Lawton and Fort Sill share a community spirit.
"We value community because we are all on the same team," Boles said. "You know, they call it Lawton/Fort Sill for a reason, and we recognize that."
Boles said that the blood drives are successful due to the volunteerism on the CU campus.
"Diane Crage, our department secretary, is an integral part of the coordination in helping with the Oklahoma Blood Institute," Boles said. "She really has done a great job and I really appreciate all of her efforts and support in putting this thing together"
Mary Spannagel, the Senior Blood Program Consultant for the Oklahoma Blood Institute, is also a major player in this event.
Spannagel said that she feels privileged to work for OBI, and that her primary responsibility is to ensure that there are enough volunteer donors in Comanche County to supply the hospitals.
"Every two seconds someone uses blood; sometimes it is a chemo patient, sometimes it is an accident victim or it might even be one of our soldiers who needs blood," Spannagel said. "The only place we can get these blood donations is from volunteer blood donors."
According to Spannagel, Cameron University ROTC has been a supportive partner of the volunteer blood donor program for many years.
"Twice a year they take time out of their studies to host blood drives," she said. "What better way to make a difference than donating blood to save lives?"
The entire blood donation process only takes about one hour.
Spannagel said that although all blood types are needed, those with O-negative type blood are especially encouraged to donate.
Appointments to donate blood at Burch Hall can be made by contacting Diane Crage at 580.581.2340 or dcrage@cameron.edu; however, walk-ins are also welcome.
Every blood donor will receive a free t-shirt and snack.