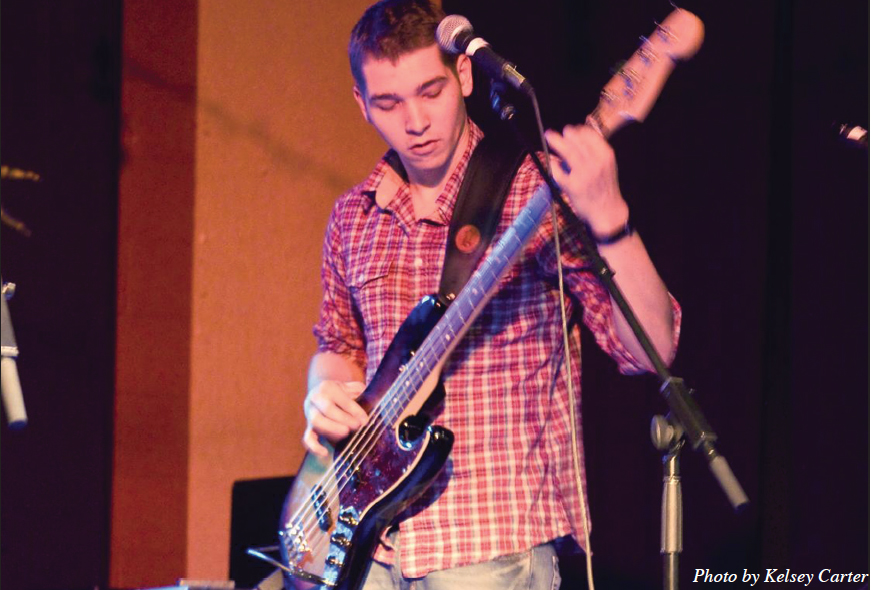 by Miranda Raines
Dead By First Light, Handguns and Debauchery and The Jarod Grice Band are just a few of the local acts that are trying to make a name for themselves among the many bands that make up the Lawton music scene.
Peter Skulski, the bass guitarist for Handguns and Debauchery, said that current members of the band have all been involved in local music prior to their current positions, and they each bring their experiences to the band.
"Every member has been in different bands that have all played locally over the past four years," Skulski said. "As Handguns and Debauchery, we have played locally for about a year now. We have started to play shows outside of Lawton, in places such as Oklahoma City, Altus and Dallas."
Several members of the bands are veteran musicians, and no stranger to the less than glamorous lifestyle they have taken on.
Matt Shreve is one of two guitarists in Dead By First Light, a band that has been a local presence since 2007, give or take a few lineup changes.
"Dead By First Light was formed in 2007 from the former members of a band called Ashes of Innocence," Shreve said. "I actually was not a part of the line up until 2009, when one of the band's guitarists left. There have been a couple different line ups — one even included three guitarists — but we are satisfied with the five piece we have now."
Both Skulski and Shreve agree that the want for local music is there, but the venues are lacking in the Lawton area.
Shreve explained that crowds exist in flux, but if there were more options for venues the following would be stronger.
"The following in the local scene comes and goes. Sometimes there will be a really strong scene with a ton of kids who come to shows, and then there are years when the scene kind of dies," Shreve said. "Right now the crowds are great. The only problem is that a lot of the supporters who want to come out and see your band are underage, and there are virtually no all ages' venues in Lawton to play."
Skulski gave a similar response, stating that although they have support, they want to help build a stronger scene for music locally.
"We receive support from friends, establishments and some media, however everybody in the band agrees that the local music scene is not really there," Skulski said. "There are local bands just like us that are striving to improve the scene here in Lawton."
Because the local music scene is somewhat lacking, the bands have to take a step further on building a name for themselves. The bands are working on improving online presence, advertising, merchandising and making quality recordings available to the fans.
While the bands are thankful for the fans that do come and show their support, they are always on the lookout for new ways of being heard.
The Jarod Grice Band has been playing for about a year now, but the band is exploring places like Oklahoma City in order to find more venues and fans of the indie rock genre.
Caleb Ellis, Senior Psychology major and bassist for The Jarod Grice Band, feels that the availability of more venues locally would improve the music following.
"There is a decent following for local bands in Lawton; however, I think local music here is underappreciated compared to other cities," Ellis said. "There are fewer opportunities and places to play. If there were more venues in Lawton, I think it would benefit local music greatly."
All of the bands praise their fans and hope to let the music be heard. Skulski and the members of Handguns want fans to know that every little bit counts.
"Without the support from the fans we would be nowhere, and we owe them everything," Skulski said. "Being in a band is not what you would expect, and we work very hard for everything we have accomplished."
Behind the fans and merchandise, Shreve explained, what is truly important is the music.
"We play the kind of music we love, with all of the passion and intensity we can muster. We believe in our music, and that's what sets us apart," Shreve said. "There are some great bands in Lawton who feel the same way about their music, and when you have a community of musicians who all care about their music, then the scene is that much better for it. And right now the local scene is the strongest I have experienced in years."