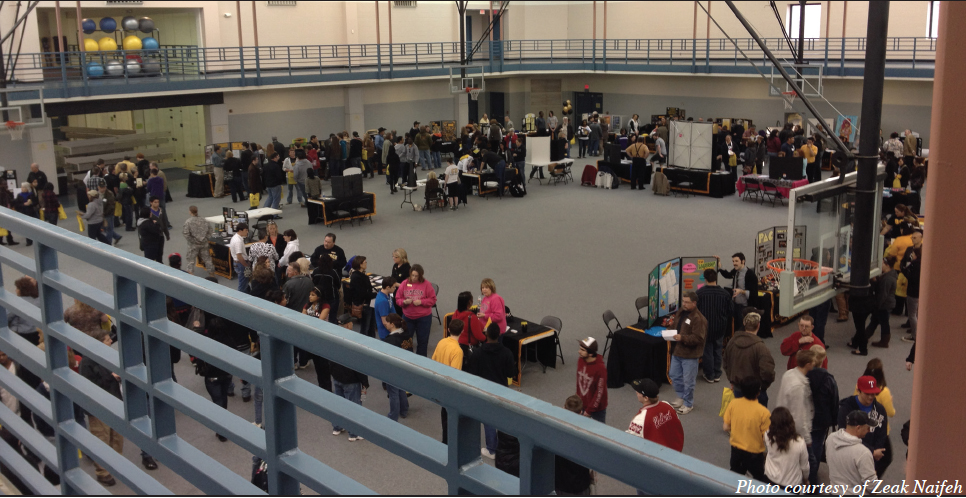 by Teewhy Dojutelegan
Prospective students had the opportunity of experiencing campus life on March 10, when Cameron University hosted the annual CU Saturday event.
The event is held every spring semester to welcome incoming students and their parents, and to introduce them to both the campus and the available resources it offers.
Frank Myers, the Associate Director of Enrollment Management, said that CU Saturday is geared towards high school seniors who are getting ready for college.
"CU Saturday is our preview day, which is geared towards seniors, but everyone is welcome," he said. "They get to learn about financial aid, scholarships and other information."
This event affords both parents and students the opportunity to meet and interact with current students, staff and faculty of the institution and learn about academic programs and the admission process.
Myers said CU Saturday is the day Cameron shows prospective students what is offered.
"Students have a lot of questions about where they want to go to college," he said. "This is the day we can show them all we offer."
The event, which started promptly at 9:30 a.m., featured three speakers: CU President Cindy Ross, Vice President for Student Activities Jennifer Holland and the Associate Vice President of Enrollment Management Jamie Glover.
The speakers discussed various issues pertinent to prospective students and issues to be faced as freshmen. Issues that were discussed include: Financial Aid, Housing and co-curricular activities.
There was also a student panel that answered any other questions the prospective students had. The panel included: Senior Communications major and CU Student Government President Cody Gardner; junior Theatre Arts major Brandi Goldsmith; sophomore Nursing major and ROTC member Chas Holbrook; and Music Education freshman Cole Hart.
Gardner explained that joining social organizations provides a lot of opportunities to do new things.
"I think it is important to become involved, because it provides for more opportunities," she said. "I am a dues-paying member of the CU Nigerian Student Association, and through that organization I learned about a culture and tried new food that I would not have had I not been involved."
She also said she decided to come to CU because she had many people willing to help her when she came on a visit to the campus.
"I decided to come look at the campus, and while I was here I must have looked very lost, because four or five people asked if they could help me," she said. "That was when I decided; I wanted to come to a place that had people like that attending."
The opening session finished at 11 a.m. and students and parents were ushered to the browsing fair in the Fitness Center, where various academic departments and student organizations had booths meant to provide information about specific courses and organizations.
According to Myers, all academic departments, support staff and about 10 student organizations were present at the browsing fair. The school was open, and students had the opportunity to see everything they were interested in.
Students, parents and guests who wanted to go on a tour were then shown the campus.
The Aggie Ambassadors, a group of students who are trained in enrollment management, provided these tours. According to Hailey Harris, Aggie Ambassador president, most people wanted to see the types of housing options that CU offered.
According to Harris, this year's CU Saturday was a success, with more students attending than the previous year. She also said since the event is voluntary, students who attend have considered Cameron University as a college choice.
"Events like these are completely voluntary for the students," she said. "We know that they have already considered going to college and are excited to hear about all the opportunities we have to offer at Cameron."