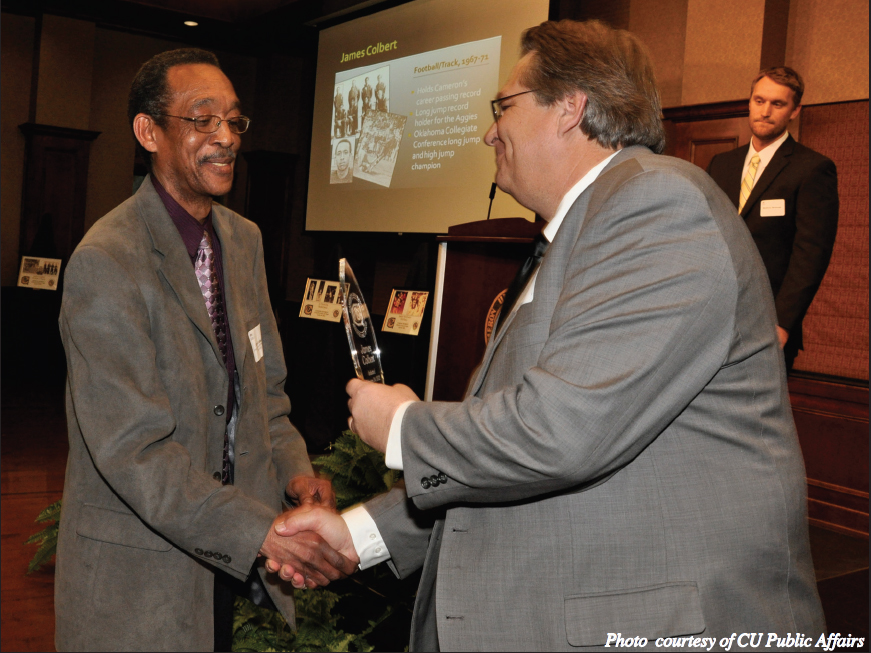 by Matthew Berberea
Friends, family and alumni joined together on Feb. 24 to honor the seven newest members of the Cameron University Athletics Hall of Fame.
The Hall of Fame banquet was held at the McCasland Foundation Ballroom on the second f loor of the McMahon Centennial Complex.
The evening began with an introduction from CU President Dr. Cindy Ross. She said that athletics are an integral part of the university and the overall mission of Cameron.
"Athletics is what ties a university together," President Ross said. "It is a common bond. It is critically important to what we are doing."
After dinner was served the ceremony began with the first inductee into the 2012 class, Hillary Baggett Hubert.
Hubert was a volleyball player at Cameron who said her only goal was to raise a conference championship banner at Aggie Gym. In 1998, the Aggies volleyball team was successful in achieving that goal.
"That banner was four years of hard work," Hubert said. "To win in five sets against West Texas was amazing."
Hubert said there was another moment that she could never forget from the night of the championship.
"After we won CU Eddie gave me a big smooch," Hubert said. "Some memories never fade away."
The second inductee of the evening was James Colbert. Colbert was a quarterback for the Aggies and is the all-time leading passer for CU.
Colbert was one of the few black quarterbacks in that era and he said he was grateful for the chance he was given at Cameron.
"There were not a lot of black quarterbacks at that time," Colbert said. "That did not seem to be an issue at Cameron. I just want to thank Coach Jensen for giving me the opportunity to play."
The next new member of the night was football coach Charlie Dean. Dean was the assistant to Head Coach Leroy Montgomery from 1955-1963, and during that time the Aggies won two national championships.
Lonnie Morrison, a member of the 1961 Junior Rose Bowl Championship team, accepted the award for the now deceased Dean. Morrison said that Coach Dean believed that players must be willing to do whatever it takes to win at all costs.
"Coach Dean's philosophy was there is a price to pay for winning and he wanted players who were willing to pay that price," Morrison said.
Former head football coach Leroy Montgomery was the next inductee, following Coach Dean.
Montgomery's son, Mike Montgomery, accepted the award on his father's behalf and said that Aggies football was a family affair for the Montgomerys.
"She (Dorothy Fae Montgomery) was a second mom to a lot of the kids who came through here," he said. "He (Leroy) cared about people; he cared about their life plan. It wasn't just lip service"
The fifth inductee into the 2012 class was Carl "Tuffy" Roberts, a booster and life-long fan for the Aggies.
Tuffy's son Doug accepted the award for his father and said that while his father was technically a booster, he filled in wherever he was needed.
"Once when he went to Las Vegas with R.T. Toma and the women's basketball team, R.T. got kicked out of the game and he asked dad to come down and coach," he said. "Dad's heart was family, then Cameron."
Jo Tahsuda was the sixth inductee of the night. Tahsuda played for the women's basketball team and currently sits at the top of the Cameron record books for scoring with 1,620 career points.
Tahsuda said that she felt at home while playing at CU because of the support from her coach and people like Tuffy Roberts.
"The years I had here were wonderful," she said. "Tuffy was always around and R.T. Toma was a great guy. He made it like one big family. He took care of his girls."
The final entry into the Cameron Hall of Fame class of 2012 was former football standout Robert Whitman. Whitman is the Aggies all-time rushing leader with 2,950 yards. He said that everything he did was possible because of the people and situation in which he was placed.
"God blessed me with great teammates," Whitman said. "God put me in a great place at a great time. This is a wonderful honor to share with family and friends."
The evening concluded with the new inductees joining fellow members of the Cameron HOF in spending time with fans and alumni.