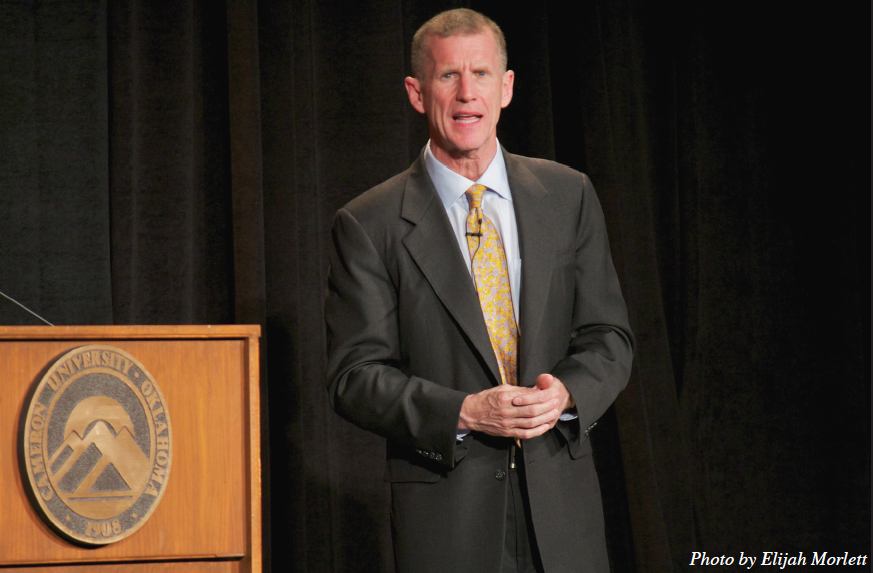 by Elijah Morlett
Cameron University's seventh triennial Academic Festival, "Afghanistan: Its Complexities and Relevance," concluded on March 15 as General (Ret.) Stanley McChrystal came to speak with students, faculty and the community.
McChrystal is the former commander of U.S. and international forces in Afghanistan and the former leader of Joint Special Operations Command.
His leadership of JSOC is credited with the capture of Suddam Hussein in December 2003 and the death of Abu Musab al-Zarqawi, the leader of al-Qaeda in Iraq, in June 2006.
Cameron University President Cindy Ross said that the university was honored to present the internationally recognized speaker for the festival.
"This year's Academic Festival has been extremely successful thanks to the speakers who have shared their extensive knowledge about Afghanistan," she said.
During the presentation, McChrystal went into the several aspects of the history and culture of Afghanistan to explain the situation there today.
"Afghans think in terms of relationships, and sometimes I am not sure we do," McChrystal said. "We think in terms of the world…but cities do not have opinions, continents do not have passions—people do. What people think is ultimately what matters."
He went on to talk about the issue of trust with the Afghans and Americans.
"They do not trust us, and we do not trust them," McChrystal said. "We tried, I would argue, too much to go around the Afghan people."
He also said, as Americans, we tend to look for a direct and quick way to solve things. However, that causes problems when forming the relationships in Afghanistan.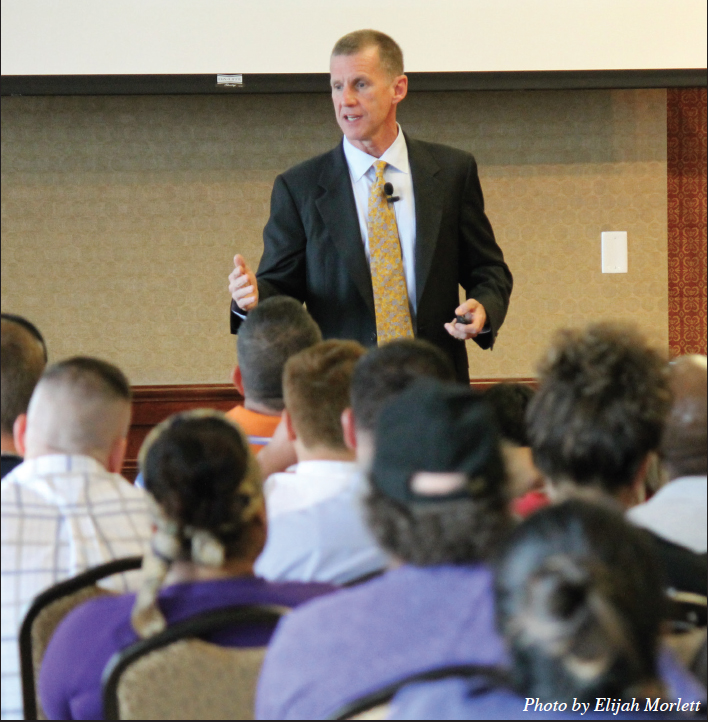 "When you kill a Taliban soldier, you kill somebody's son, or somebody's brother or somebody's father, and that has an effect," he said. "That does not mean you do not have to do that, because sometimes you have to. This does mean you cannot go around the people because they determine who wins and loses."
Another topic that was brought up is unmanned warfare, which is the use of drones, missiles and other aspects of war that does not involve direct human contact.
"I support the capability of us doing that, but only when it counts," he said. "Unmanned strikes create frustration in these countries that do not have the ability to do the same."
McChrystal said that modern technology in today's warfare has created an environment where war can begin without much thought into it.
"If war is too easy, then it is too easy," he said. "If a nation can create havoc on someone else without putting itself at risk, the danger is that the decision will be too easy to make. You do not want that decision to be so easy."
Finally, one of the last aspects he spoke of was the future of Afghanistan after foreign forces leave.
"If we stay until 2014 along the line that President Obama has outlined and the Afghan forces continue to grow, they will have the ability to protect themselves," McChrystal said. "The great danger is that they will be end up not united, in which they will break into civil war."
This Academic Festival was dedicated to the memory of Dr. George Edward Stanley, a distinguished member of Cameron University's faculty for 41 years. Stanley, a Professor of African and Middle- Eastern Languages and Linguistics, died February 2011.
Stanley was involved in the initial planning efforts of the festival. President Ross said that the year-long event was something that he wanted to be a part of.
"The purpose of the Academic Festival—to delve deep into study and exploration of a topic of interest and intrigue—is just the type of adventure Dr. Stanley enjoyed," President Ross said.