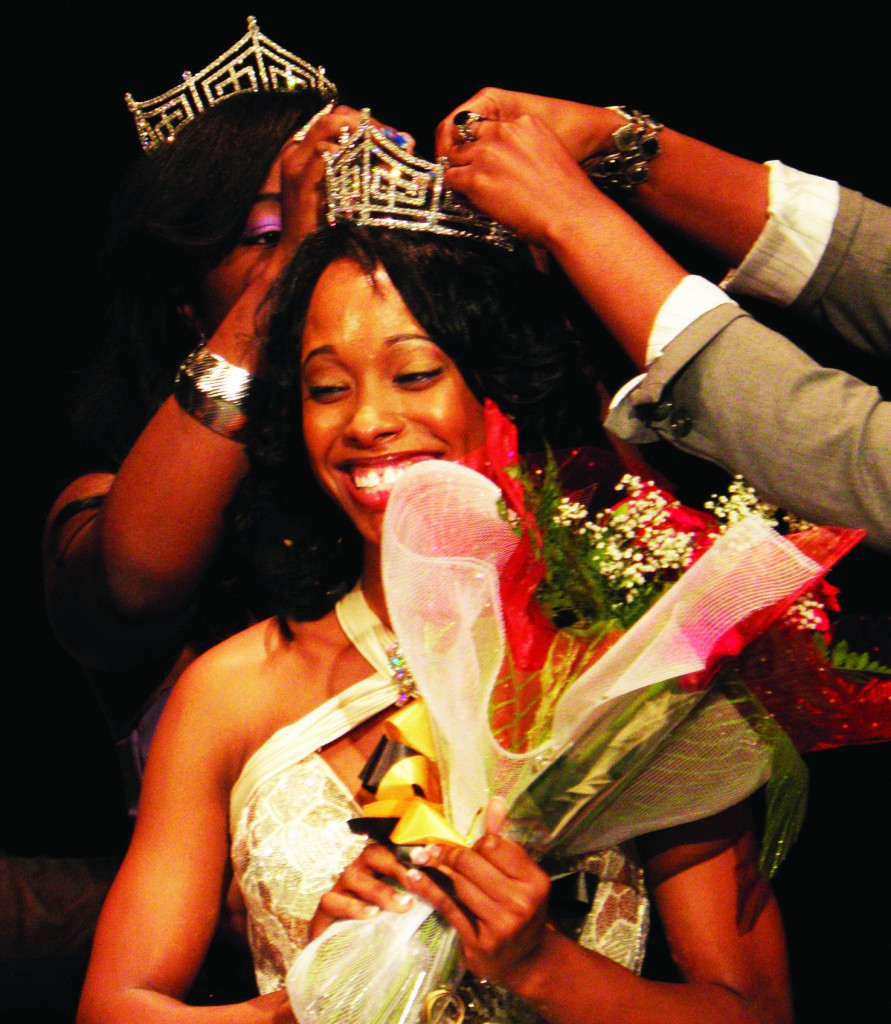 By Teewhy Dojutelegan
This year's Dr. Valree Wynn Miss Black CU pageant took place at 7 p.m. on Feb. 4, 2012 at the CU Theatre.
This Ebony Society-hosted event featured six young women vying for both the crown and the opportunity to receive 18 hours of tuition for up to six semesters.
These young women included Precious Moore, a Masters of Science in Behavioral Science major; Ciera James, a freshman Accounting major; Brandi Jones, a senior Communications major; Jeremyra Cross a junior Psychology major; Ifeoluwa Egbeyemi, a freshman Chemistry major; and Didi Osanife, a senior Business Marketing major
The event started with the introduction of Aj Adenuga, a senior Biology major, and Brandi Goldsmith, the Ebony Society president, as the Master and Mistress of Ceremony, respectively. The Black National Anthem, Lift Every Voice and Sing, was then recited.
The first round, which featured sports wear, was not judged. It promoted physical fitness and healthy lifestyle. Afterward, the five judges were introduced.
This year's judges were: Maria Shahan, Beatrice Lipford, June Rain, Dianne Owens and Tammy Johnson.
The first judged round of the pageant was the Ambassadorial Wear segment. Here, the contestants dressed as famous African American women who had achieved success in their careers.
Jones, Osanife and Moore represented Halle Berry, Oprah Winfrey and Angela Davis, while Egbeyemi, James and Cross made appearances as Michelle Obama, Zelma Watson and Maya Angelou.
The talent segment came next, where Jones sang Natalie Cole's "Orange Colored Sky," Osanife sang a rendition of "Hallelujah," and James sang Whitney Houston's "Greatest Love of All," Moore gave a monologue about the African family, while Egbeyemi gave a soliloquy about drug abuse. For her part, Cross played Jackson 5's "I Want You Back" on the piano.
The final round of the pageant was the Evening Wear segment. In this round, the contestants came on stage in their evening gowns, where the judges asked them various questions.
Osanife explained why she thought her platform was important.
"This generation is the future," she said. "We need to educate adults to be better role models for the youth."
At the end of the night, a new queen was made: Jeremyra Cross was chosen to be Miss Black CU 2012. Ciera James and Ifeoluwa Egbeyemi were first and second runners-up, respectively.
Cross is excited and honored to be Miss Black CU 2012.
"As MBCU I first feel very honored that I was chosen to represent my university, and I will represent it well," she said. "There is also a great feeling of excitement about the impact I hope to make as MBCU."
Pageant Director Taylor Thompson said she thought the event went well.
"I think the event was very successful," she said. "We had a huge turnout, everything ran smoothly and we stayed within our two-hour time limit."
Cross said she would value memories from rehearsals the most.
"The memories I will cherish most will be from the practices. There were times where I never knew I could laugh so hard," she said. "Never have I been surrounded by a more smart, beautiful, and positive group of young ladies. I will definitely miss the laughs, the smiles, and the positive energy that each of them brought into my life."