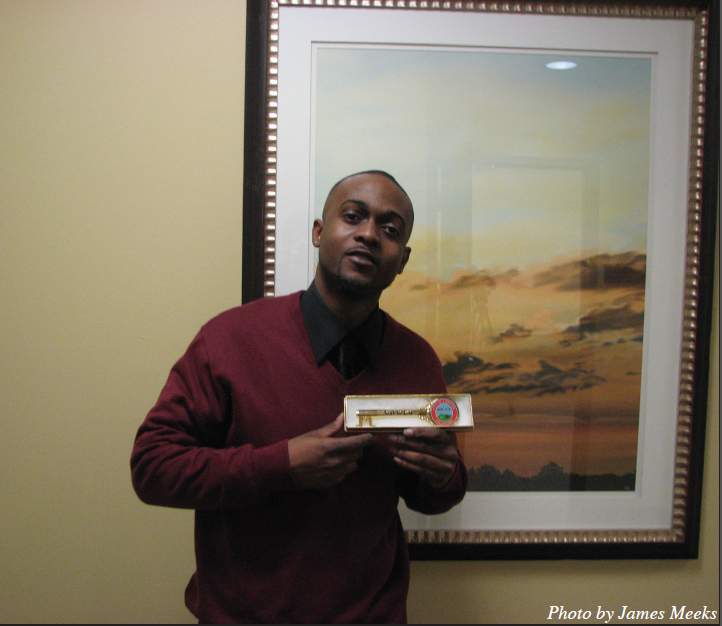 by James Meeks
video by Jack McGuire
Cameron University's Derrick E.D. Smith Jr., received a Key to the City of Lawton.
Smith received the key to the city from Andrew Young, a friend of Martin Luther King Jr. and ally during the civil rights movement.
Smith was honored to be given the task of introducing Young during the MLK day banquet.
"It meant a lot more introducing Mr. Young than just an introduction, because of the civil rights movement and everything that he's done are kind of the things I inspire to do," he said. "He was right there with Dr. King. I spent a significant amount of time with him during the banquet."
Smith also won an essay contest on how Dr. King influenced his life, titled "Dr. King changed the reflection in my mirror."
[vimeo]http://vimeo.com/37188500[/vimeo]
According to Smith, his upbringing was from a tough neighborhood and both his experiences and what King went through had a lasting effect on his thinking.
"Dr. King's work with the civil rights movement and everything that he had done has made an impact on my life and allows me to see that I don't have to be what society says I am supposed to be," he said.
Smith is involved in many organizations on and off campus. He is the public relations officer for the Ebony society and is a member of the MLK planning committee on campus. Off campus, Smith is involved with many committees such as the gang intervention steering committee with the city of Lawton and Project Safe Neighborhoods, which is partnered with the federal government and Disproportionate Minority Contact. He also sits on the MLK planning committee, and is one of the candidates in the running for Homecoming King.
Smith is currently in the works for a new student organization called the Future Entertainment Industry Society (FEIS), a group he said he is excited to be a part of.
"I know there are a lot of students that aspire to be in the entertainment industry whether it is music, film or radio," he said. "Whatever field that they desire to study in, I want to give them the opportunity to come on board to a campus organization that can put everybody that is serious about it together."
Smith plans for the group to be a secure network in those fields, and to allow students to have access to the networks he has built in those areas.
Smith is excited for FEIS and emphasized that the organization is about experience, and the connections in the entertainment industries he has made and will pass on to other students.
"I think it's important you gain experience along with your degree so when you graduate and you come out not only do you have a bachelors, you also have a resume," he said.
Smith currently holds an Assistant Mayor internship in Tatums, Okla. The internship will count as credit towards his degree in Business Administration.