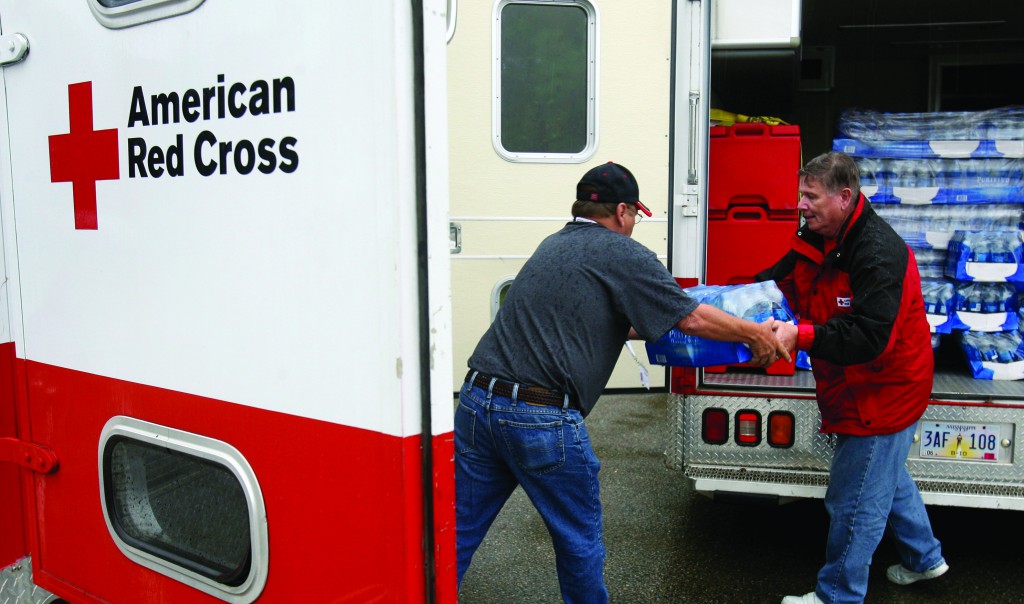 By Dianne Riddles
For some, the words "Red Cross," or the emblem of a red cross on a white background, have long been associated with disaster and crisis. For others, that red cross brings to mind images of volunteers, relief and aid to natural disaster victims. Whatever the mental association may be, The American Red Cross or ARC, has always provided help to victims of domestic disasters.
According to Disaster Response Coordinator Kimberly O'Brien with the Lawton ARC, the organization is a 501c3 charitable organization that is funded in part by United Way and manned by volunteers. The local organization covers five and a half counties: Comanche, Cotton, Jefferson, Stephens, Tillman and the southern half of Caddo.
O'Brien said that she started with ARC as a volunteer and was hired as a staff member in September 2011. With her perspective and experience, she completely understands the value of volunteers.
"We are volunteer driven; we are absolutely volunteer driven," O'Brien said. "Having been both a volunteer and a staff member, I can see just how much we really do need and appreciate our volunteers."
In addition to the disaster relief provided during the wildfires in and around Fort Sill and Medicine Park last summer, the ARC provided assistance to the Lawton community during the 2010 ice storm, sheltering those that were left without power and heat for extended periods of time.
According to O'Brien, the ARC is not only a volunteer based organization, but it is donation driven. The organization heavily relies on regular donations from ordinary individuals who come in and want to give back.
"The most touching stories for me are those in which we made an impact in a client's life and that client comes back and wants to give it back," she said. "They want to pay it forward."
O'Brien said that the Disaster Action Team is the group of people who are the first responders of the ARC and are the ones who get the first calls and notifications when a disaster strikes.
"They are the boots on the ground," she said. "They are the ones that directly go out into the communities and work with the clients who have been affected by disaster."
According to O'Brien, dedicated people with many different skills and talents also come to ARC, such as instructors who donate their time to teach CPR, or administrative assistants who volunteer once a week to help with filing.
"There is always a part that volunteers can fit into," O'Brien said. "We are always looking for dedicated people that really want to just give back to the community."
The ARC offers many services in other areas that some might not realize when thinking of the ARC. Five areas of service include: community services that help the needy; support and comfort for military members and their families; the collection, processing and distribution of lifesaving blood and blood products; educational programs that promote health and safety; and international relief and development programs.
O'Brien said that the ARC is always looking for anyone who would like to give back to the community, whether they are volunteering on a regular basis or as a one-time occurrence. She said that anyone who is interested may pick up an information packet and take some time to figure out where the best place is for that person to contribute his or her own personal talent or skills. O'Brien also said that ARC provides extensive training for those interested in volunteering.
According to O'Brien, the packets are available at the ARC office at 6 SE Lee Blvd. For more information, one may call 580.355.2480 or go to www.okc.redcross.org.
Contributions to the ARC by check or money order payable to the American Red Cross of Central and Western Oklahoma and mailing  to Dept.#96-0397, Oklahoma City, Okla. 73196-0397.