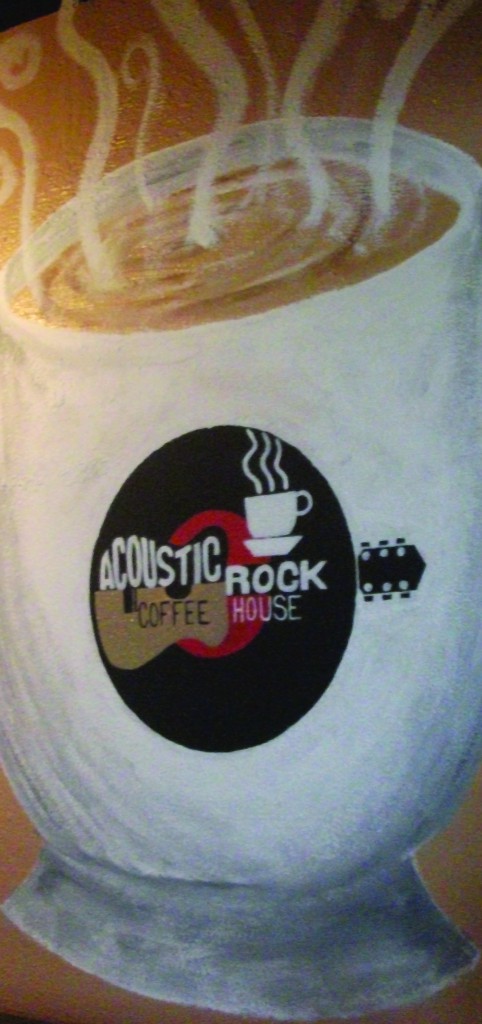 By Leah Chaffins
Students, artists, coffee aficionados, and those seeking open conversation now have a place to come together. The Acoustic Rock Coffee House was designed with these people in mind, and is offering new experiences for locals.
Owner Kristopher Martin said that the inspiration for the Acoustic Rock was a need for local musicians, and the desire to provide Lawton with a coffee house.
"My business partner, Kertis Johnson, has owned the building for a little while, and he wanted to open a place where he could do karaoke or where band players could come in and practice," Martin said. "It has been a dream of mine to open up a bar or coffee shop, so, I sent him a message one day that said we needed to open a coffee bar."
Martin said that since then, musicians from in and out of town have come after hearing about a place for them to play.
"We have had people come in from out of town, like Chickasha, but mostly we are getting a lot of local people who are coming in just looking for a place to play," he said. "They are like, 'Wow, this is exactly what we needed'."
Inside, Martin has the walls covered with pieces of artwork that create a true coffee house vibe. Most of the pieces are the work of local artist and the coffee house manager.
"My manager, Megan DeMarco, she did most of the art you see in here," Martin said.
Martin encourages local artists to bring their work in to the establishment if they are looking for a place to showcase work they are selling.
"Any local artists who have one or two pieces of art that they would like to sell, should bring it in," he said.
The serene atmosphere was also created with Cameron students in mind, Martin said. Besides the many tables and quiet, customers can connect to the Internet via Wi-Fi and print off any homework while they are there.
"We offer free Wi-Fi, printer, and printing service," he said. "If a student wants to come in and work on a paper, or do a study group and they need to print out something, they can plug in their computer and print it off."
There is no shortage of entertainment at the Acoustic Rock Coffee House; according to Martin, certain weeknights have scheduled events.
"Wednesday night I am starting a speech-poetry-inspirational night," Martin said. "We are calling it Espresso Yourself. Thursday night is our live acoustic night. The only thing that we ask is that people bring their own musical equipment."
Martin said he also hopes the coffee house will provide a place for Christians to feel free to express themselves.
"Tonight we are doing our first contemporary Christian night," Martin said. "We have some different praise and worship teams that are coming from various churches, and we are encouraging anyone else to come. This is kind of an open mic night for contemporary Christian artists who do not have places to play."
Providing a fun place for underage youths was also part of the design, Martin said.
"One of the things we really wanted to do was to have a place where underage people could have a place to go," Martin said. "What we wanted to accomplish was to give these people a place to hang out. You can go to ABC and get coffee, but there isn't much else to do there. There may be music sometimes, but other than that there is not much to do."
Starting a new business can be intimidating, but Martin said the response from locals has been encouraging.
"When we opened up, we really were not expecting Lawton to accept it as quickly as it did," Martin said. "One of the best compliments we keep getting is that Lawton has needed a place like this."
The next big event planned at the Acoustic Rock Coffee House is the "Un-Valentines Day A.R.C.H. Single's Celebration" from 7 p.m. until 10 p.m. on Feb. 14th. The event will feature live music and door-prizes. Tickets are $10, and fifty percent of the proceeds will go to Family Promise.
For more information, please call 580.699.5220 or go to the Acoustic Rock Coffee House page on Facebook.