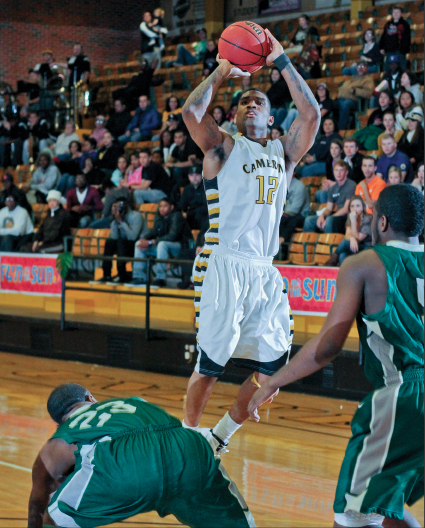 By Matthew Berberea
The men's basketball team was on a roll to end 2011 and have picked up exactly where they left off.
After a 9-3 start, the Aggies picked up two quick wins to open up the spring semester and grow their winning streak to eight.
The first game of the spring came at home against the Eastern New Mexico Greyhounds.  The Aggies started hot and never let up on their way to a 31-18 halftime lead.  With ENMU touting a high-powered offense, Coach Wade Alexander knew that they would need to play tough on both sides of the ball.
"We really wanted to lock them up defensively," Coach Alexander said.  "I believe they were the leading scoring team in the conference (coming into tonight).  To come out and play 'D' like we did was incredible."
After a first half in which the Aggies dominated, the Greyhounds proved they would not go down without a fight.  At one point the Eastern New Mexico squad pulled within five points.  Senior Milt Garner decided he had enough and put the team on his back, leading all scorers with 28 points.
"It was another solid performance by Milt (Garner)," Alexander said. "He does that night in and night out. He needs to continue to do that and play well for us. He understands what we need. I think he will only do better, but defenses will get tougher. Eventually, teams are going to make it a point to now allow him to beat them."
Cameron went on to get the win, their seventh in a row, with a final score of 72-57.
Next up for the Aggies was a tough road contest against the West Texas A&M Buffalo.
Coming into the game, the men's basketball team had not won on the road against West Texas since 2006.
West Texas got off to a quick start as the Aggies fell behind early in the first half.  Cameron didn't lose focus however, and were able to tie the game up at 31 going into halftime.  Coach Alexander emphasized the need for a great team effort when playing away from the Aggie Gym.
"We had some different players make plays for us tonight," Head Coach Wade Alexander said. "All the way down the line up sheet. You've got to have them when you are on the road."
The second half proved that this would not be an easy win for either team.  The Aggies and Buffs traded buckets and neither team was able to pull away.  Seniors Thomas Razor, Milton Garner, and newcomer Walter Battle scored 22, 16, and 13 respectively to help Cameron come up with the big win.
"Thomas Razor just played a tremendous game offensively," Alexander said. "Walter Battle really gave us a lift in the post tonight as well.  (Jonny) Patino hit a three in the corner; they (WTAM) gave it to him all last year in the tournament. Then, we attacked the press and Country (Andrew Thomas) got a dunk. It was huge. Great pass, great play."
After their first win in Canyon, Texas in six years and eighth straight win on the season, the Aggies look to carry their momentum into the remainder of conference play
The men's basketball team will play at Aggie Gymnasium against Tarleton State Wednesday, Jan. 25.