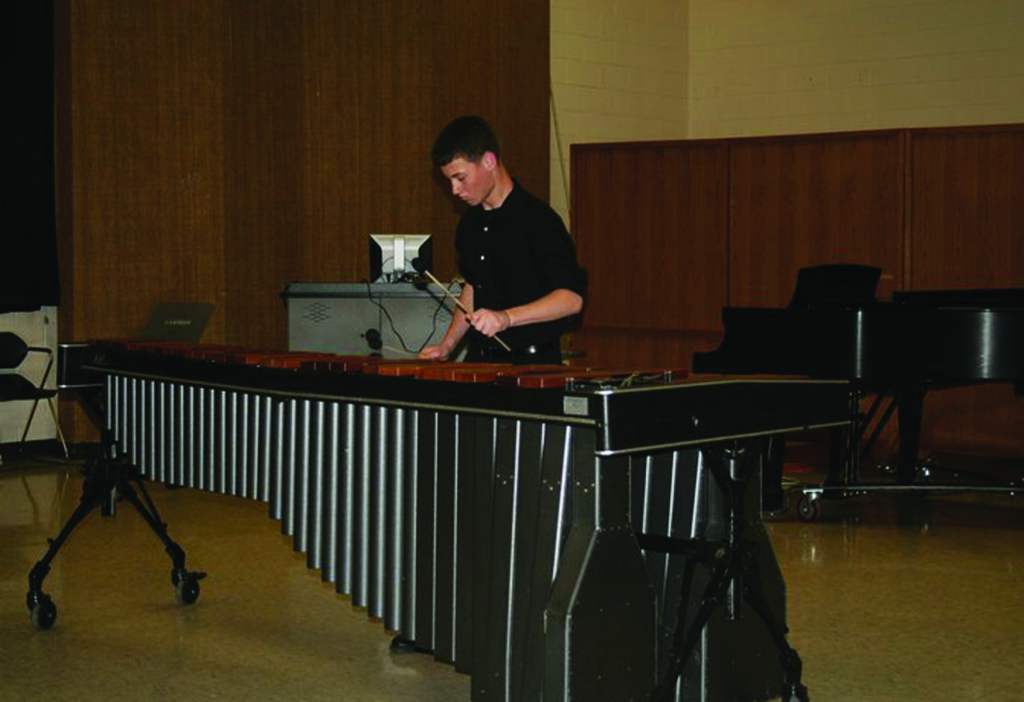 By Tiffany Martinez
Percussionist and concurrent enrollment student, 17-year-old Micheal Barnes, has been selected to play in the 2012 American High School Honors Performance Series at Carnegie Hall this February in New York City.
According to the American High School Honors Performance Series website, www.honorsperformance.org, the 5-day program challenges elite students to rehearse and perform under the most eminent of directors. The students also get a chance to tour the city and participate in various music education events.
Barnes is a senior at MacArthur High School (MHS) who takes private lessons twice a week at Cameron University. Dr. Jim Lambert, chair for the department music, teaches Barnes and applauds his talent.
"Michael Barnes is an exceptionally talented percussion student," Dr. Lambert said. "He absorbs each percussion assignment."
In addition to Barnes' Carnegie Hall acceptance, this young man has received a number of other honors this year, as Dr. Lambert explained
"He recently performed in the Oklahoma All-State
Band at the Oklahoma Music Educators Conference," Dr. Lambert said.
According to Barnes, he has also taken first chair in the Oklahoma All-Region Honor Band for the past four consecutive years, and these experiences have enriched his life.
"There are so many great people you can meet through music, especially traveling and being a part of different honor bands. It's really a great experience." Barnes said.
Barnes continually regards music as his top priority, and incorporates it into every part of his life.
"Music is everything to me. It's my life, my passion. I practice about seven hours a day," Barnes said. "Music takes discipline, dedication and focus. These are skills that can be applied to all aspects of my life."
Barnes said that he has always taken an interest in music, but didn't find his true calling in the subject until his high school career began.
"I played the piano as a child, and gradually worked my way into strings," Barnes said. "By the time I got into high school I had joined band and decided to stick with it. Playing percussion kind of came naturally to me."
It was then that Barnes met his greatest inspiration, in music and in life, his mentor: David Faries. Faries was a Music Education major at CU who volunteered to help teach the percussion students at MHS. He also suffered from acromegaly, and during the summer of Barnes' freshmen year, Faries died at the age of 25.
"He had a number of physical limitations and a number of health problems, but he never let it get him down. He taught me that you shouldn't let anything hinder what you want to do in life, no matter what. He was so inspirational to me," Barnes said.
"Overall, he taught me that attitude is over half the battle. If you have a positive attitude, you can do whatever you want to do."
Barnes has followed in his mentor's footsteps and volunteers at MacArthur Junior High School (MJHS) after his school day ends, helping to teach percussion students at lower grade levels.
"David taught me that through music I can impact the lives of others, just as he impacted mine," Barnes said. "He was more than a teacher to me, and has inspired me to be like him in every aspect."
While Barnes is unsure which college he would like to attend at this time, Dr. Lambert remains confident in the musician's career.
"Micheal has a bright future," Dr. Lambert said, "I know he will be successful as a career musician—wherever he may be."