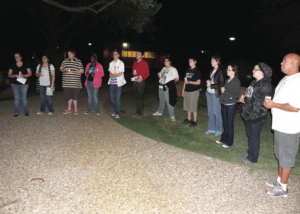 [vimeo]http://vimeo.com/31063064[/vimeo]
Video by Tiffany Martinez
Print by Teewhy Dojutelegan
The student organization Cameron PRIDE (People Respecting Individuality, Diversity and Equality) organized a candlelight vigil that was held on Oct. 12.
Jennifer Castricone, a CU admissions counselor and the PRIDE adviser, said that the vigil was in honor of both National Coming Out Day and Matthew Shepard Day.
"At the event, we discuss how National Coming Out day began and evolved," Castricone said. "We talk about Matthew Shepard's life and the circumstances of his death."
According to Castricone, the National Coming Out Day is a civil awareness day that celebrates individuals that publicly identify as bisexual, gay, lesbian or transgender with regard to their sexual orientation.
Matthew Shepard was a University of Wyoming student who was tortured and murdered in 1998 based on his sexual orientation. His death brought attention to the debate on hate crimes, which led to the passing of the Matthew Shepard and James Byrd, Jr. Hate Crimes Prevention Act.
At the Vigil, PRIDE members were invited to share their Coming Out stories. About six members came forward to share their stories including an alumnus, Richard Johnson and Randy Coralles.
Johnson graduated with a degree in Theater Arts in 1997. He said the biggest issue gay people face is usually hurting those people they love.
"I think the biggest issue faced is when you are constantly lying to the people you love," he said. "When you constantly lie to your friends, to your family, you feel kind of dirty."
To Coralles, the way people perceived him was judgmental rather than understanding.
"At first, I thought they were kind of judging me," he said. "Now when they perceive me, I want them to know that I love differently than they do but I am still a human being."
Castricone said that the organization has made an impact in the Lawton community in a number of ways.
"PRIDE provides a source of support for local GLBT youth, as well as being a source of information and education for the campus," she said. "PRIDE also provides community service through various fund-raisers and volunteer opportunities off-campus."
With affect that the organization has had on the campus and the Lawton and Fort-Sill community, there are still a few stereotypes associated with members.
Castricone said stereotypes usually included being seen as too differentiating.
"Negative stereotypes are often along the lines of PRIDE members just being a bunch of "drama queens," she said. "Also, (they are seen as) being too polarizing or political as an organization.
According to Castricone, the biggest change in PRIDE since she became advisor in the spring semester of 2009 is the size of the organization's membership.
"We are slightly smaller now than when I started," she said. "But we have huge amounts of community support and will continue to be a strong presence on campus."
It is unique that Castricone who is a straight woman, married to a straight man would be involved with a gay alliance. She said that she has been a supporter for equality and fairness for a while.
"I have long been an advocate of equality and fairness," she said. "Not just with respect to LGBT rights but also as far as the criminal justice system and other politically-charged issues.
She said being a part of PRIDE has taught her lessons and has changed her.
"It has changed me in ways I can't possibly explain," she said. "I have to say that most importantly, it has made me a better person–a more empathetic person.
PRIDE meetings are at 6 p.m. on Fridays in Room 103 at the McMahon Center.