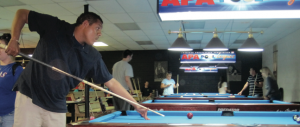 by Thomas Smith
Going to a national tournament of any kind is an achievement by most standards. Going to a national tournament two times in as many years is a testament of commitment, skill and dedication.
Anthony Tiddark-McDaniel is a senior Mathematics Major and Vice President for Sigma Tau Gamma Fraternity here at Cameron University. Last year his 9-ball team went to the American Poolplayers Association (APA) national tournament held in Las Vegas. This year he has earned another spot at APA nationals for 9-ball singles. This means it will be every man for himself, no team play allowed.
"This will be my second time going to nationals. The first time I went it was with my 9-ball team. We didn't do so great but I played the way I always try to play, which is to the best of my abilities. This time I'm going to nationals for 9-ball singles," Tiddark-McDaniel said.
To play at an APA national tournament Tiddark-McDaniel had to qualify at a regional tournament held in Oklahoma City. Regional tournaments are divided into tiers depending on skill level. Tiddark-McDaniel was able to win in his tier despite being the lowest level able to play in it.
"I qualified for nationals by playing in the regional tournament that was held in Oklahoma City. I played in the black tier which is made up of skill levels 6, 7, 8 and 9. A winner out of each tier is invited to nationals. I am a skill level 6, not a high level shooter but I'm getting there," Tiddark-McDaniel said.
If he wins the national tournament, Tiddark-McDaniel leaves with a trophy and up to $15,000. However holding the title does have other perks.
"If I win the national tournament I will receive a 5-foot trophy and $15,000 in prize money. Also, bragging rights for the year," he said.
Tiddark-McDaniel was drawn to playing pool because of the geometry. Billiards is about being able to move the cue ball around the table and leave it where you need it. He is glad to put his math skills to work on the table.
"My favorite thing about pool is that it is a game of angles and trying to distort those angles to move the cue ball where you need it for the next shot," he said. "So geometry is involved which interests me since that involves a little bit of math."
Tiddark-McDaniel puts his math skills to use on the pool table during every game. The markings on the table help him to gauge exactly where to shoot the cue ball in order to get the angle he's after. Understanding of geometry also helps Tiddark-McDaniel to turn blocked shots into 9-ball wins.
"My major in mathematics helps me in the game," he said. "If you notice that on every pool table there are diamond markings along the rails of the pool table. You can actually use those markings to make bank shots and also accomplish kick shots when hooked or blocked by an opponent's ball."
Being that it's Tiddark-McDaniel last year in college he's been thinking about his future as an amateur pool player. He is planning on playing in more tournaments to try and get an invite to the APA Pro-Open tournament. He will have his first chance to play for an invite at his appearance at the 9-ball national tournament.
"I am an amateur pool player, but I'm hoping to take my pool career to the next level which is becoming a professional. At nationals I'm actually going to play in some mini tournaments and if I win one of those I will receive in invite to a Pro-Open tourney that is also in Las Vegas," Tiddark-McDaniel said.
Tiddark-McDaniel is going to nationals this coming April and said he hopes to come home with a Pro invite and the prize money. If he does win the tournament Tiddark-McDaniel plans on donating part of his winnings to various charitable organizations.
"If I win, I plan on donating $2,500 to the Gamma Rho Foundation, and putting $2,500 towards Books For Kids, my fraternity's philanthropy," Tiddark-McDaniel said.
It seems that Tiddark-McDaniel could be making several trips to Las Vegas in the years to come for various tournaments. According to him it is a great city with lots to do, although it can get crazy.
"Vegas is an awesome city, there is a lot of thing to do if you're over 21 and walking the strip is crazy. Vegas is one of the few place I know of where you can walk around with an alcoholic beverage and not get a public intox," Tiddark-McDaniel said.